Transfers
Chivas land Sepulveda, Fierro heads to Morelia in quiet Liga MX draft day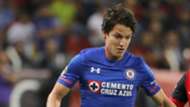 Wednesday's Liga MX "draft" lacked its normal sizzle but still resulted in a number of transfers that will shape the upcoming Apertura.
After the Mexican players association requested changes to make the transfer process less jarring for players, the league stopped announcing each transfer as it was made and also declined to announce the total amount of money that changed hands as it has in past years.
With the change, many of the biggest moves already had been announced. Rodolfo Pizarro's move from Chivas to Monterrey was confirmed as was Cruz Azul's capture of center back Pablo Aguilar from Club Tijuana and Pumas' handful of swaps. On draft day, Cruz Azul announced it was sending center back Julian Velazquez to Tijuana, which will get a replacement for Aguilar in the form of the Argentine.
Cruz Azul also brought in attacking players in the offseason as new sporting director Ricardo Pelaez looks to retool the club. Elias Hernandez, Roberto Alvarado and Milton Caraglio's signings already had been announced, paving the way for La Maquina to move Carlos Fierro to Morelia on Wednesday.
Chivas weren't expected to be active in the draft beyond selling a few players, but did bring in a pair of players who will push for first-team minutes. The club, which signs only Mexican players, acquired forward Angel Sepulveda from Morelia and also added defender Josecarlos Van Rankin from Pumas.
After a disappointing season in Guanajuato, Leon will have a different look. In addition to moving Hernandez to Cruz Azul, its other winger Andres Andrade is headed for Atlas. The team picked up ex-Chivas goalkeeper Rodolfo Cota in the offseason and also moved for Pedro Aquino from Lobos BUAP.
Atlas reportedly will acquire the services of American center back Omar Gonzalez from Pachuca, but there had been no official confirmation from either side of the deal as of Thursday morning. Young America attacker Alejandro Diaz is confirmed to head to Guadalajara to join Atlas.
One draft day surprise was Necaxa acquiring Carlos "Gullit" Pena. Personal issues have kept Pena from finding success on the field recently, but he went to a facility to begin recovery from alcoholism this summer and will join Los Rayos, looking to return to the form he showed with Leon years ago.