John Terry
Cahill and Azpilicueta are leaders and Chelsea will be fine without me, says John Terry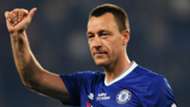 John Terry believes Gary Cahill has proved himself a potential long-term replacement as the Chelsea legend prepares to leave the club after Saturday's FA Cup final against Arsenal.
Messi tax conviction appeal rejected
Cahill has stepped in to Terry's position as skipper on a regular basis, with the club captain having played a bit-part role at Chelsea this season. 
Cesar Azpilicueta also captained Chelsea against Tottenham in the FA Cup semi-final and Terry doesn't feel the club will suffer from a lack of leadership in his absence.
"They will be fine [without me]. People like Gaz [Cahill], Cesar [Azpilicueta] and Cesc [Fabregas] are big characters in the changing room," Terry said at Cobham Training Centre. "They will be fine. I think it is important as well because people will say that if they don't do well next year it is because they miss John.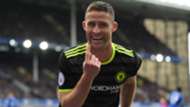 "No, let's forget, my time is done, it is now time for the next generation to go and win things consistently and keep winning things for this football club. 
"Once I am gone, I am gone. Hopefully I will be back in some capacity, in some role but let's see what happens.
"I certainly think so [that Cahill should be captain], I think he has proved that this year and again I think he has earned that right to, if the manager decides to give it to him. He's the one who has had the armband. He's played almost every minute of every game.
"He's been brilliant, not only performances, but the kind of stuff that you guys don't get to see. If you lose a game or have a big defeat or stuff like that, he is the one to step up. He's had to step into that [captain] role as well.
"He has been important this year because of the transition of being there to support him and help him. It has been good and it has worked for us both."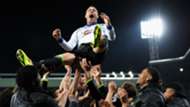 Terry hinted that he may retire after he helped his side beat Watford 4-3 at Stamford Bridge in their penultimate Premier League game as he prepares to leave the club he joined as a 14-year-old. 
The 36-year-old insisted that he has not been talking to other clubs or made a decision to retire yet - as he is only focused on his last match for Chelsea in the FA Cup final. 
Wenger's Arsenal future uncertain
"I am going to take my time. Generally I am going to step away a little bit. Honestly, I haven't decided yet [what I'll do after Chelsea]," Terry added. "I love playing football to be honest and while I still can, which I know I can.
"I've not been playing much but physically I know I can. When you are 38, 39 or 40 your body can give up on you but I know that I can still do it and I can do it at the top.
"I think it is important to be at the top but everything is an option, honestly. I have made no decision on my future."