Transfers
Chelsea target Arp to decide own future - agent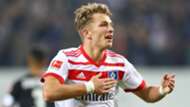 Hamburg teenager Jann-Fiete Arp's agent insists any decisions about the striker's future are up to the player himself.
Arp has recently emerged as one of the most courted young talents in the Bundesliga, with Chelsea said to be interested in signing him along with other major European clubs such as Manchester United and Real Madrid.
Chelsea 6/5 to finish PL's top London club
The 17-year-old has scored two goals in three Bundesliga games for Hamburg, despite playing just 125 minutes and, in three matches for the Under 19s, Arp has found the net seven times this season.
With his contract expiring in 2019, Hamburg are eager to renew, with sporting director Jens Todt recently telling Bild that HSV would be ready to discuss Arp's future "24 hours a day".
Arp's agent Jürgen Milewski, meanwhile, is not in a hurry to sit down and is confident the forward will not be affected by any transfer speculation.
"All those rumours don't bother Fiete. Just let him play, and in the end Fiete decides on his own what he wants and what he does not," Milewski told MoPo.
Todt praised Arp's agency for its general approach, saying: "Fiete is managed by an agency which is known for making proper career plans and not just caring about money."
In addition to Arp, Hamburg coach Markus Gisdol recently also integrated 20-year-old Japanese winger Tatsuya Ito into the first XI.
Todt added: "If a young player wants a club in which he has a realistic chance to play regularly, here he is at the right address."