Chelsea
Chelsea are going to win the title, so why would they want Lukaku?
---
COMMENT
---
Chelsea don't need to enter the transfer market with any sense of desperation to re-sign Romelu Lukaku in the summer after passing the biggest test left in their bid to regain the Premier League title following a 3-0 win over Everton. 
Lukaku, who is reportedly valued at £100 million by Everton as he looks for a move to a bigger club in the summer, completely failed his audition in front of Antonio Conte and Chelsea's money men at Goodison Park. 
Chelsea have qualified for the Champions League
Editors' Picks
The Belgian striker would be a good addition to the squad but he is not worth re-signing for the money Everton will demand and the pressure which would accompany such a fee. 
Paul Pogba has struggled to live up to his billing as the world's most expensive footballer and Chelsea don't need to follow Manchester United or Real Madrid in signing marketable 'galacticos'.
Reportedly wanted as a replacement for Diego Costa, Lukaku was out-performed by the Spain international. Costa also failed to score, but his all-round play was much more effective and influential.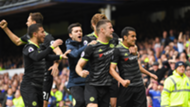 When Lukaku misfires, he offers very little but, when Costa does, he contributes far more. He works hard, gets on the ball and occupies defenders, even on his bad days. His pass to Cesc Fabregas helped to tee up the third goal.
Chelsea's match-going fans still chanted for Costa throughout his recent seven-game goal drought and there is appreciation for his efforts, even if they sometimes get him into trouble. It was the longest run without a goal in his career, and a period in which he produced some of his worst performances, but his contribution earlier in the season must not be forgotten. 
Belotti unconcerned by price tag
For all that Lukaku remains the Premier League's top scorer, and is arguably a better finisher than Costa, Conte will be questioning whether the Everton striker can do it in the biggest games. He has scored only three of his goals versus the top six, while he has 17 against the bottom 10.
Even Enner Valencia outshone Lukaku in this game and his five shots did little to cause Chelsea concern. Indeed, it is worth noting that Lukaku has now faced his former employers six times and has yet to register once.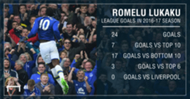 It ultimately proved to be a comfortable victory for Chelsea once Pedro had provided a moment of brilliance to light up a dull game on 66 minutes. Gary Cahill added a second from a corner for his eighth goal of the season as Everton's shambolic defending was punished by the league leaders, who scored a late third through Willian. 
Chelsea's players have delivered an incredible week for their fans with two league wins over Southampton and Everton after an FA Cup semi-final win against Tottenham. They scored 10 goals and finally got their first clean sheet in their last 14 games. 
The club's team spirit has been a huge factor in their return to greatness this season and any big-name signings in the summer will have to bed into a group that is already working well. 
Chelsea's stars looked set for the scrapheap last season after they finished 10th under Jose Mourinho and Guus Hiddink, but the group have pulled together brilliantly under new leadership. 
Conte repeatedly repeats the mantra that any transfer stories are "disrespectful to my players" and he is right. The current group of Chelsea players must be appreciated for their incredible achievements and performances. 
The Blues boss has proven he is a genius and his players have demonstrated that they are anything but finished. Everyone at Chelsea - from the fans, to the manager, to the players - must now stick together for a bright future as they embark on European adventures next season.