MLS
Chargers to share StubHub Center with LA Galaxy after relocation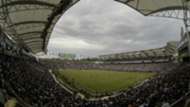 The LA Galaxy are about to get some high-profile roommates.
The San Diego Chargers confirmed they will be moving to the Los Angeles area for the 2017 NFL season Thursday, with the team scheduled to spend two seasons at StubHub Center in Carson, California, before moving into a new NFL stadium in Inglewood in 2019.
MLS unveils match ball for 2017 season
"StubHub Center is, and will continue to be, the home of the LA Galaxy," Galaxy president Chris Klein wrote in an open letter to the team's fans. "This stadium belongs to you. We believe that StubHub Center is a cathedral for soccer in North America, and that will not change. Our fans are paramount to this club and this decision was made with you in mind.
"The Chargers playing at StubHub Center this season will benefit the LA Galaxy and our supporters. Having the Chargers playing at StubHub Center will allow us to invest and upgrade our state-of-the-art facility and game day experience."
A soccer-specific stadium on the campus of Cal State, Dominguez Hills, StubHub Center has served as the Galaxy's home since opening in 2003. Typically a 27,000-seat capacity venue, the stadium will accommodate 30,000 fans for NFL games.
"The experience for our fans at StubHub Center will be fun and entertaining, and every seat will feel close to the action," Chargers executive A.G. Spanos said in a news release. "This is a unique opportunity to see NFL action in such an intimate setting. The new stadium at Hollywood Park will be a tremendous stage, and we can't wait to play there, but right now it's about introducing ourselves and getting to know new fans and partners in a special, one-of-a-kind setting."