Petr Čech
Cech cools heads as Wenger's Arsenal find backbone at the Bridge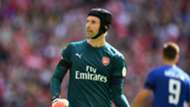 It looked all set to be more of the same for Arsenal.
Victories over Bournemouth and Cologne had done little to ease the pain of the 4-0 shellacking they took at Liverpool. They'd been labelled spineless, disorganised, incoherent, confused. Their performance slammed by club legends as among the worst in their history.
A trip to champions Chelsea was the last thing an under-pressure Arsene Wenger needed. His side hadn't won away at a top-six team in almost three years, losing eight and drawing six of their 14 matches on the road against those particular rivals.
The Gunners had lost their last five at Stamford Bridge, had failed to score in eight of their last 14 visits and had been unable to keep a clean sheet in their last 12, shipping at least twice in each of the last eight.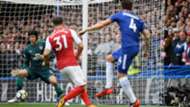 And Antonio Conte was ready to take advantage. "I don't care nothing about Arsenal's situation," he warned ahead of kick-off.
"I don't deny that history is against us with Chelsea," admitted Wenger, before adding defiantly, "[But] the thing about top teams is that they make history and they change history."
They'd have to do it without star player Alexis Sanchez, who, having been forced stick around at least until January, was left on the bench despite his brilliance in the Europa League on Thursday.
But there was at least one good omen ahead of kick-off when it was confirmed that Arsenal chief tormenter Eden Hazard was also left on the bench.  
Still, returning former Chelsea hero Petr Cech would be key. He had appeared to be in for an extremely busy afternoon. His first big test arrived after 20 minutes, as Pedro raced clear to stare him down. 
Cech was unnerved, standing up to the former Barcelona forward, making himself big and blocking the shot with his knee. It was one of the few times a surprisingly steadfast Arsenal defence would be bypassed, and in Cech they found a saviour.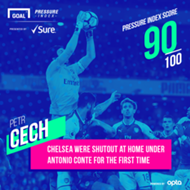 As he had done so many times in his 13-year Premier League career, the big Czech reassured those ahead of him that they were in safe hands. And with Sead Kolasinac and Shkodran Mustafi back in the starting line-up, there would be no repeat of the frantic disorder we saw at Anfield.
Chelsea were restricted to mostly half-chances, and every time they got close, Cech restored calm. A fierce low drive from Willian was not only stopped, but held with Alvaro Morata closing in.
And even the introduction of Hazard, who'd netted in three of his last four Premier League games against Arsenal at Stamford Bridge, would not be enough – the Belgian slalomed through Arsenal but found his ferocious, dipping shot plucked out of the air with ease by Cech. It was his fourth comfortable save of the afternoon.
"At Liverpool, we gave them the advantage before half-time, then it became very difficult for us. We had to survive the first 20 minutes," said Cech. Without him they wouldn't have. 
The Goal Pressure Index is presented by Sure, Official Partner of Chelsea FC, Everton FC and Southampton FC. Join the conversation on Twitter @Sure.