Guadalajara
Mexico defender Carlos Salcedo open to future Chivas return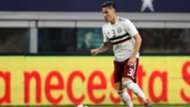 Mexico national team and Eintracht Frankfurt defender Carlos Salcedo left the door open on a return to Chivas, though he's panning to stay in Europe for the immediate future.
Salcedo moved to Europe in 2016, joining Fiorentina before moving to the Bundesliga side this summer. The former Real Salt Lake center back hopes to remain in Europe, but he indicated he wouldn't be totally against a return to the Guadalajara side with which he started his youth career and where he returned to play three tournaments with the senior side.
"We've talked. We haven't reached an agreement but I've never ruled out nor will I rule out [a Chivas return]," Salcedo told MarcaClaro. 'Whether it's right now, in two or three years, I'm not ruling it out, but yes I'm realistic with myself and I know that I want to stay longer." 
Editors' Picks
The 24-year-old remains on loan with Frankfurt from Chivas. He started the season as a regular in Niko Kovac's three-man back line but recently lost his starting place. Then, in a March friendly against Croatia, Salcedo fractured his collarbone and is in a race against time to be fit for this summer's World Cup.
While his future likely is in Europe, a return to Guadalajara may not be so farfetched with Salcedo saying he and current Chivas manager Matias Almeyda have a strong relationship. Chivas also is likely to lose center back Oswaldo Alanis in the offseason with the left-footed defender planning to test his luck in Europe after his contract expires while Carlos Salcido is 38 and may retire soon.
"I talk with Matias a lot. We have a really good friendship," Salcedo said. "We've both agreed that if it's the moment to return now, it's going to happen now. If it's in two years, it's going to happen then. I'm calm and thankful with him for all the advice he's given me."