Captain Herrera leads, finishing issues & more: Five things from Mexico's draw vs. Wales
Mexico got through on goal time after time but couldn't find the back of the net against Wales, kicking off its trio of friendly matches prior to the World Cup with a scoreless draw.
It's the first time since Juan Carlos Osorio took over Mexico's managerial duties that El Tri has failed to score in consecutive matches. Fans in the Rose Bowl were frustrated. After all, they'd just paid a fair amount of money to watch a team without many players who will start for Mexico at the World Cup and didn't even get the chance to celebrate a goal.
Osorio, on the other hand, was calm after the game. His squad did show some good things during the match, with several of the biggest players held out to rest up before Saturday's friendly against Scotland. Hirving Lozano and Carlos Vela are fit but didn't play. Hector Moreno, Diego Reyes and Andres Guardado are recovering from injuries but should soon be ready.
Let's look back on both the things that should have Mexico fans feeling calm ahead of the team's departure for Russia and the reasons for concern:
---
Captain Herrera helps lead the charge
---
Hector Herrera is coming off a season in which he captained Porto to a league title. With Rafa Marquez unable to enter the United States and Guardado injured, it fell to HH to put on the armband and captain El Tri against Wales. Once again, he played well, bringing Wales goalkeeper Wayne Hennessey into action with long shots from outside the box several times in the first half.
Herrera has started for Osorio 27 times including Monday's game, one less than leading player Moreno. He's obviously a player the manager trusts, and you could see his teammates also putting faith in Herrera as he provided an outlet in midfield for less experienced players in a somewhat tense situation.
It shows why coaches put such a priority on players going to Europe and getting matches. Herrera arrives in great form, and he didn't miss a beat transitioning from club to country. He's a player who will start for El Tri in Russia, and with the calming presence he displayed Monday in addition to a quality performance from a tactical perspective, it's easy to see why.
---
Molina's midfield use
---

Jesus Molina started and played 45 minutes in Monday's draw. Molina didn't go to the 2017 Confederations Cup in Russia and then lost his starting spot with Monterrey to Jonathan Gonzalez. After injury and formation change helped Molina get back on the field, he earned a call into the provisional squad and now could be headed to the World Cup.
Molina wasn't spectacular, but he did break up several attacks including very early on. In the fourth minute, Oswaldo Alanis tried to send a pass forward but it deflected off a Welsh player and the counterattack was on. Molina sprinted back and intercepted a pass at the top of the box.
Sitting deep, he allowed Herrera to slide to the left side and overload the Welsh defense, freeing up space for Jesus Corona to attack on the right side once the field is switched. Edson Alvarez moved into the position to start the second half and also had a good showing.
"I think all the players are needed," Osorio said when asked if he needed to take a player with Molina's profile to Russia. "Scenario: If we're wining and pressuring high and have a team that plays long direct over the striker then he will be very, very influential. Today, I think that we didn't need his help too much because we had two center backs who are very good in the air. Nevertheless, their No. 9 won the ball a couple of times and he was there for the rebounds. I will not disagree with you that Hector can play a more offensive football from there, but Jesus' aerial game is second to none."
Those comments indicate that Molina might not be someone Osorio sees as a starter in World Cup matches but could perhaps come on as a player to help protect a lead. Either way, his spot on the roster looks more secure than ever after a solid first half Monday.
---
Finishing things off
---

Mexico had 17 shots, eight on target and no goals. You don't have to be Pep Guardiola to figure out that the team needed to finish better than it did Monday.
"The team came in working these last two weeks of preparation we had, and I think today it played a good game, despite the fact that we all got together as a whole squad only a few days before the game," winger Javier Aquino said. "I think we played a good match. We looked to do what the manager asked us, though we did lack something in the attacking portion, in our finishing."
Hopefully for Mexico that can be chalked up to rust. Javier "Chicharito" Herandez arrived from West Ham after playing very few minutes, Corona started (and impressed but didn't score) after several months of sporadic time with Porto. Even Aquino hadn't played a match since May 6, a 22-day layoff after the Tigres season came to a close.
There's no doubt El Tri controlled the game and was able to create chances. Ultimately, this match will be forgotten, but the nature of margins in soccer mean this game would've have a much different vibe around it post-match if Chicharito, Tecatito or Herrera had converted one of their chances.
"I think it's something we'll keep working on, but I think it's about, if suddenly, not passing the responsibility from one to another, and if you're in front of the goal, you have to take a shot," Osorio said. "I think we could get better at that and that's the big difference in getting into the final third and being effective in finishing and we hope we can do (the latter)."
---
Getting defensive
---

It's fair to say Mexico had an alternate back line in Monday's match. In the first half, Alvarez was the right back with Hugo Ayala and Oswaldo Alanis in the middle and Jesus Gallardo on the left side. None of those players are likely to start in Russia, with two potentially left off the team altogether once cuts are made after Saturday's match.
Osorio generally has tried to hide those types of details, but he's hoping to have both Moreno and Diego Reyes fit for the send-off against Scotland. That would, he notes, definitely increase the quality of the defense.
"We all felt very sorry for the news when Nestor was out of the squad. He was a guy who was almost in every single starting lineup, so now we're trying to look for what's our best way to play a back four," he said.
"Obviously we have to shuffle our players around and try to find the best defensive line, and I have to add to that we didn't have Diego Reyes today and Hector Moreno that will definitely be - knock on wood - healthy for the next game. They will compete for a starting position, and I'm sure that if they are in the starting lineup then we will improve the quality in many ways ,and I think we will have a very strong back line."
The unit was fine, but a back four of Carlos Salcedo, Reyes, Moreno and Miguel Layun sees each position get a bump up in quality. That's good news, with Germany and even South Korea presenting far more attacking threats than Wales did Monday with Aaron Ramsey not at his best and Ryan Giggs utilizing a number of young players.
---
The numbers game
---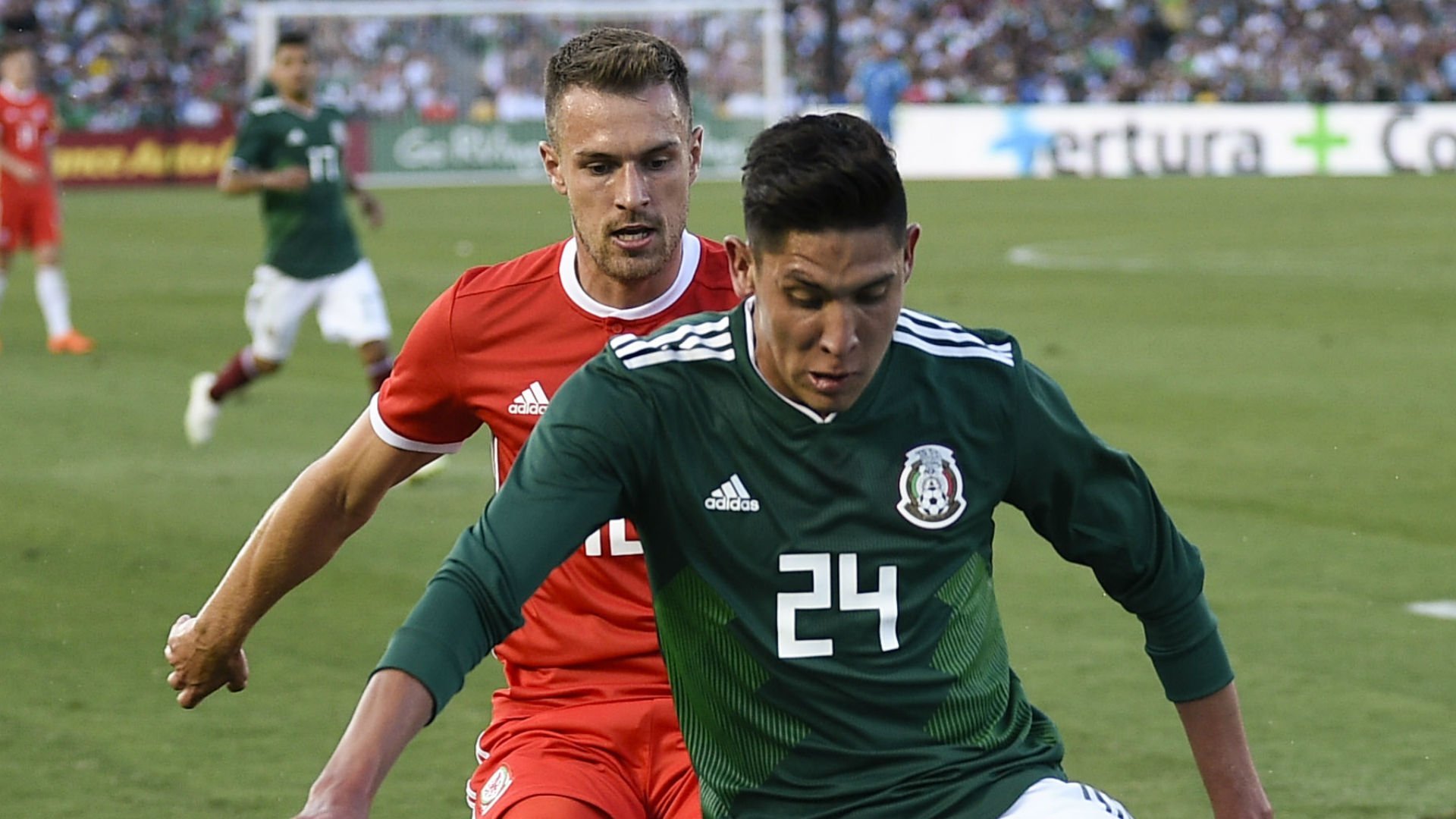 Reading too much into things is sort of a specialty of sports journalists, especially when covering a team as closely guarded as the Mexican national team. Still, it was tough not to see the numbers of the players expected to cut from squad before the World Cup and not to wonder if there were signs there.
There are 27 players left in camp, with a FIFA maximum of 23 players allowed. Edson Alvarez wore 24 Monday night, Erick Gutierrez 25 and Jurgen Damm 26. Ayala, the center back, wore the number 4 shirt that surely will be saved for Marquez.
Has Osorio given a big hint about his final decisions? Is he using it as motivation for the players, to let them know that more work is needed to secure a place? Or is it total coincidence that we're reading too much into?
It would be no surprise to see Damm and Gutierrez sent home with directions on what to improve on in the next cycle. The other two may still have a case to make Saturday against Scotland. On the one hand, Alvarez played well Monday, especially when he went into the middle of the field in the second half. Ayala seemed like a logical replacement for Araujo after the injury. But there are other players who could still be ahead of them on the depth chart.
It's worth remembering that Jonathan dos Santos (the No. 6 Monday) had the 24 shirt prior to the 2010 World Cup before Javier Aguirre left him out of the final group.