Africa Cup of Nations
Caf mission back in Cameroon for 2019 Afcon readiness inspection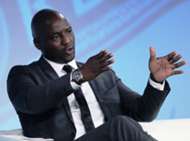 Inspection of stadiums and other facilities in Yaounde, Garoua, Bafoussam and Douala is currently underway before the Confederation of African Football (Caf) passes its conclusive position on whether hosting rights would stay with Cameroon or handed to another country.
The final assessment began on Sunday and will be closed on Thursday, with Caf deputy secretary general and inspection head Antony Baffoe already saying a lot of progress has been made in Cameroon.
"We are the soldiers of the President of Caf, operating on the ground," Baffoe told Cafonline.
"We came to see the progress of construction and rehabilitation of infrastructure. Through media and social networks we know that the work has advanced considerably."
The inspection team includes Fifa and Lagardere representatives. There had been concerns about Cameroon's capacity to host an expanded 24-team Afcon after they were initially handed rights to organize a tournament with 16 teams.
But Caf president Ahmad in the past months reassured that there is no plan B to take Afcon away from Cameroon amid rumours that Morocco and South Africa were ready to take over the hosting.