Morata
Buffon: Juventus lost a great talent in Morata - I loved him a lot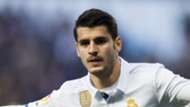 Gianluigi Buffon says Juventus lost a "great talent", while he lost a team-mate he has "great affection for" when Alvaro Morata left to join Real Madrid.
The man who can stop Messi winning the European Golden Shoe
The Spanish forward joined Juventus from Real Madrid in 2014 after failing to break into the first-team in the Spanish capital. The €20 million signing became a big hit at Juventus, scoring 15 goals in 46 appearances in all competitions in his first campaign as Juve won Serie A, the Coppa Italia and reached the Champions League final. His success prompted links to a move to Chelsea, but it was Madrid who snapped him up after his second season for €30m.
Although Juventus are again certain to win the Italian top flight and are close to reaching another European final, Buffon admits he misses the 24-year-old striker and feels he could have been a star in Turin. 
"Alvaro had negative thoughts in his last period at Juve," Buffon told Real Madrid TV.
"We talked a bit about it because he I was sorry for him. He was a guy I loved a lot and wanted to help him, to give him security. He deserved the help of a companion and I have great affection for him.
"His move to Real for me it was a disappointment because we lost a great talent of an age that would allow him to mature and finally to devote himself .
"He could be the best man for Juventus."
Morata's 18 goals in all competitions this term tops each of his tallies in Italy, but he is not a regular starter for Zinedine Zidane's side. 
With Los Blancos holding a 3-0 lead heading into the second leg of their Champions League semi-final with Atletico and Juve leading 2-0 against Monaco in the other tie, Buffon and Morata will likely be reunited in the final in Cardiff.