Las Palmas
Boateng's Las Palmas contract terminated after three months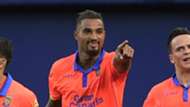 Ghana international Kevin-Prince Boateng and Spanish outfit Las Palmas have reached an agreement to bring their association to an end, the club have announced.
The shocking revelation comes just three months after the 30-year-old extended his stay with the side by another three years, having completed an initial a one-year stint at Estadio Gran Canaria at the end of last season.
"The UD Las Palmas and Prince Boateng have reached an agreement to rescind the contract that linked his entity for the next three seasons," the club announced on Wednesday morning.
"Personal reasons of irreversible character provoke this unexpected departure. The footballer will be at the Gran Canaria Stadium at 17.00 a press conference in the company of President Miguel Angel Ramirez to bid farewell to the fans.
"The player is to bid farewell this afternoon from the UD Las Palmas at a press conference, once an agreement has been reached to make his disengagement effective. Las Palmas has understood the plight of the footballer.
"The club thanks him for his professionalism during the season that he defended the yellow jersey, and above all, for the gesture he shown by signing for our team when he had more economically favourable options at other important clubs in Europe."
Boateng had an amazing season at Las Palmas last season.
In unarguably his best time of topflight football, the German-born netted 10 times in 28 La Liga outings, finishing as UD's highest scorer of the campaign.
His good showing made him a top transfer target for many clubs but after months of speculations, the attacker put pen to paper on a three-year renewal as UD beat competition from the likes of Sevilla and Valencia.
"On May 17, 2017, Boateng extended his relationship with UD Las Palmas for three more seasons," the publication went on.
"Nevertheless, the personal situation of the player, of irreversible character, has precipitated this. Boateng will continue his sporting career in a destination that allows him to be close to his family.
"Las Palmas wishes you the greatest success, both sports and personal, and will always be grateful for the excellent season you had wearing yellow and for the affection that always aroused among fans."
Boateng has also had stints with Italian outfit AC Milan as well as Tottenham Hotspur and Portsmouth in the English Premier League.
He also played for German sides Borussia Dortmund, Hertha Berlin and Schalke 04 where his contract was similarly terminated.