Jérôme Boateng
Boateng hails 'brilliant' Guardiola and 'beautiful' Manchester City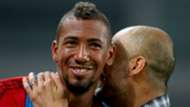 Jerome Boateng has hailed Pep Guardiola as "brilliant" and described Manchester City's football this season as "beautiful".
Boateng worked together with the Catalan for three seasons at Bayern Munich, winning three German league titles and two doubles between 2014 and 2016.
City are 15 points clear in the Premier League and remain on course for a quadruple with a Carabao Cup final against Arsenal looming later this month, and the Germany international puts that down to the coach.
"He's brilliant," the World Cup winner told Goal. "For me, tactically, he is the best.
"This season City bought a lot of good players. They have a lot of money.
"Now you see more that it's his team. They play very good football. It's beautiful to watch."
The 29-year-old played one season at City, the 2010-11 campaign, before moving to Bayern, where he became a treble winner in 2013. City could well rival the Bundesliga giants for the Champions League this season with the Germans safely into the draw for the last 16, where they will face Besiktas over two legs.
The European landscape is crowded with top quality sides – such as Real Madrid, Barcelona, Juventus and Paris Saint-Germain – but Boateng believes Bundesliga teams should be doing a lot better on the continental stage.
Bayern were the only German side to make it out of the group stage, with Hoffenheim falling at the qualifiers and RB Leipzig and Borussia Dortmund both finishing third in their respective groups.
"Obviously, we want to go as far as we can," Boateng said. "As a country, I think Germany can do better – much better – international wise.
"The last years before were better but now there are tough leagues. The English League, the Spanish, Italian, they have good teams but at the end of the day we have a very strong squad and we will try to win it.
"Of course it will not be easy."
Bayern suffered a catastrophic 3-0 loss to PSG in the group stage which ultimately cost Carlo Ancelotti his job as coach before gaining revenge on the last matchday on home soil in December.
"There were different players on the pitch but at home we play always better," Boateng said of the two games. "In Paris, we didn't play well. We didn't follow the game plan too well that Mr Ancelotti gave us.
"But it's a new situation now and we are very happy and positive at the moment," said Boateng, who also hailed the impact of returning coach Jupp Heynckes.
"You see how comfortable the team is," he said. "He has great experience, he's like a father figure for our team and everybody follows him. You see it in our games we play way better than before."