U17 Women's World Cup
Black Maidens hoping for the best against Mexico in Fifa U-17 Women's World Cup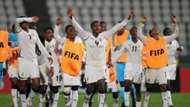 After a flawless run in the group stage of the ongoing Fifa U-17 Women's World Cup in Uruguay, Ghana are set to face Mexico in the quarterfinals on Sunday.
Back home in Ghana, locals have shifted attention from the Africa Women Cup of Nations following the elimination of the Black Queens and are now expecting some national pride from the younger girls instead.
Coach Evans Adotey is not oblivious of the situation but says it brings no extra pressure to his team ahead of the crucial meeting.
Editors' Picks
"Every Ghanaian is expecting Black Maidens to sail through. Should the unexpected happen, I will be under pressure, I am not under pressure right now. My girls and I are ready for the action .We hope to appease the fans of Ghana by going through to the next stage," Adotey said.
Adotey happens to be a veteran of the competition having led the team to the 2014 and 2016 editions and was an assistant when Ghana played in the 2012 edition in Azerbaijan.
"This is my fourth World Cup experience and it's been by far the best one for me because we're pursuing our game plan with ease and recording emphatic wins," he said.
Ghana defeated hosts Uruguay 5-0 in their opening game before handing Finland a 3-1 drubbing and then wrapped up the group stage with a 2-0 win over New Zealand.
"Their physical fitness is the result of a lot of hard work," said Adotey told Fifa.com in an earlier interview. "During our long preparations I made them do the Cooper test every week," he added. "It involves running the longest possible distance in 12 minutes. If their performances didn't improve from one week to the next, then I didn't let them get away with anything."
Ghana's Mukarama Abdulai is currently the top scorer of the tournament with six goals.