PSL
Bernard Parker wants Kaizer Chiefs to learn from Manchester United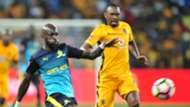 Kaizer Chiefs attacker Bernard Parker has admitted that they have to work on getting a few things right before they return to winning ways. 
Amakhosi have had a slow start to the 2017/18 season, and they have been criticized for not scoring enough goals, but Parker is of the view that the goals will come. 
"The goals are there. We scored in the Carling [Black Label Cup]. In the game against SuperSport we had so many chances – the ball just didn't reach the net' but it was good attempts – we hit the post how many times? the keeper made good saves. In the last game [against Bloem Celtic], there was a goal from a set-piece' and not many of us had chances," Parker told the media.
He feels the team is gelling and his partnership with Gustavo Paez is getting better. He's confident that they will be unstoppable when Siphiwe Tshabalala rediscover his last season's form. 
"But we're looking better – we're looking smoother and more gelled. We're gelling – especially me and Gustavo Paez. If we can get Siphiwe Tshabalala back to his best I think we would have more power. Up-front' I don't know what we can say. You say maybe we need to be a bit more calm – you're calm' they close you down. You say we need to be a bit more sharp – you try and be sharp and then it's a rushed situation. So, it's just a matter of striking that balance," the 31-year-old said.
"And that balance will come automatically. As you guys (the media) have seen' we're looking good' we're playing good football' we are getting into attack in all areas – from wide and centrally' and we're looking good in set plays. So, it's just that 10 percent more – staying more compact' being disciplined in defending' being more ruthless in attack," he continued.
"We're looking good, and I've got strong belief in the troops that the way we are going' automatically things will go our way. The confidence is the main thing. If you look abroad right now' at Manchester United the confidence is sky high, and it's the same things they were doing wrong last season," he said. 
"If we just keep the consistency' keep working hard' and keep the same level of confidence' everybody being clear in their role' and same consistency' doors will eventually open," concluded Parker.