NPFL
Bernard Ogbe wants to raise a formidable Niger Tornadoes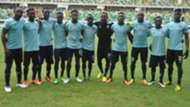 Niger Tornadoes head coach, Bernard Ogbe has revealed that he won't be compromised in his attempt raise a formidable team for the Ikon Allah Boys ahead of the coming season.
Ogbe returned to the same club he coached some seasons back two weeks ago and he has started the task of rebuilding a team that can compete with the rest of the team in the Nigeria Professional Football League and in the Federation Cup too.
He said they have asked players that were unable to meet up to the standard to leave the team and that they have secured able replacements for them.
Editors' Picks
The former Mighty jets coach assured the players in the team and those that are training with them with a view to joining to continue to put in their very best as it is his determination to pick players only on merit alone.
"We have started work and have intensified our build-up to the start of the season. We have been able to settle down for business," Ogbe told Goal.
"I have told players that are indolent and not open to corrections to find a new club because it won't be entertained at Tornadoes. We have made some adjustments to the team and have dropped some players while some new ones that we know too well are coming to replace them.
"I do things on merit and what I want to achieve is to ensure that we have a very strong Tornadoes that can compete with rest of the teams in the top-flight. I am excited that they got to the final of the Federation Cup last year and I believe that we can still re-enact it."
Tornadoes appointed Ogbe as a replacement for sacked Erasmus Onu and he will work with Hamza Abara who steered the Ikon Allah Boys to the end of last season.