Bayern München
Bayern Munich legend Bixente Lizarazu talks about Youth Cup, Indian football, winning World Cups and more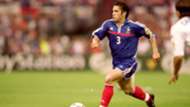 As Army Public School were beating Mumbai-based Campion School in the India edition of the FC Bayern Munich Youth Cup, one special spectator at the sidelines could be seen encouraging the youngsters from both teams.
That man, Bixente Lizaruzu, a Bayern Munich Hall of Famer, has seen it all and done it all when it comes to winning titles. Having spent nine years with the German behemoths in two spells between 1997 and 2006, the Frenchman won six Bundesliga title, a Champions League, a club World Cup and five DFB-Pokal trophies. His achievements with the French national team are even more noteworthy with the left-back being a vital component of the squad which lifted the FIFA World Cup at home in 1998 and the Euro 2000 Championship.
The trophy-laden legend was in the national capital as part of his ambassadorial work for the German champions. Goal caught up with the great man who made 97 appearances for France in an exclusive interview on the sidelines of the Youth Cup.
Editors' Picks
Q: What is the purpose of your visit to India?
I am coming here representing Bayern because I am a brand ambassador for the club. I am coming here for the Youth Cup in India because it a very important project for Bayern. As you know, they do it for a lot of countries. At the end of this competition, a team will be selected to go to Munich and they will get to participate in the Youth Cup. This is an amazing experience for these guys because during these five days they will train at the training base of Bayern Munich – Sabener Strasse. This is where I trained for nine years, beautiful place where they will see where the professionals are training, the conditions of training, they will get to see how big stars trains. They will get to play at the Allianz Arena, which is a beautiful stadium and not many people get a chance to do that because it is so exclusive. They will also get to watch a Bundesliga match at the Allianz Arena.
When I was young I didn't get this chance. This is an opportunity for the Indian players to show how good they are. If they are really good, they will get the chance to go to the academy in Munich and then might one day play in the top team in Munich.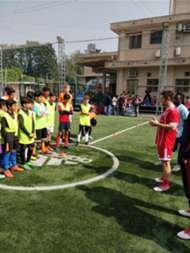 Q: Where you do you think Bundesliga ranks when compared to other European leagues like the Premier League and La Liga?
Bundesliga is one of the best leagues in the world with the organization, the people,  stadiums, the fans, the way of playing football - attacking and offensive. The only difference between the Premier League and Bundesliga is that they are not speaking English. That's why the Premier League is very popular and many people know about it. They can watch the match and understand the commentary. If you forget the language, the organization and everything else about the Bundesliga is top notch, the best actually. You have to see more games of Bundesliga and if you keep watching, you will see the quality that is there. It's a very attractive league with top teams like Bayern Munich and Borussia Dortmund.
Q: How important is India as a potential market for Bundesliga and Bayern Munich?
China and India are the most populated countries in the world with more than a billion people in each country. The number of people who like football and want to play football in these countries is amazing. Now, all the biggest clubs in Europe, they want to be famous everywhere. Not only in Germany for Bayern or not only in England for Manchester United. They want to be famous in India and China and so you to have to go there. In India and China, you have to show who you are and you have to speak about your spirit. You have to speak about the legend of the club. That's why clubs are trying that by coming to China, India, America, South America and Indonesia. This is a big evolution in football. During my time it wasn't like that. Now you have to think global.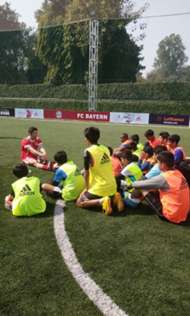 Q: What role can Bayern and Bundesliga play in the development of Indian football?
Of course, we have to help India to develop football. I know that India loves football. I know the league had just started and is developing very well (Indian Super League). A friend of mine went here, Robert Pires. So it is coming up and growing. Of course, you need to have organisation. For example, you don't have one club in every town here. In Europe, you have a club in every little town. You have to organize all these things and you need better trainers. It is a big job to do.
Q: Do you think we will see the likes of Bayern Munich and other European clubs come to India for their pre-season tours sometime soon? With the ISL and the FIFA U17 World Cup, the level of infrastructure has grown in India and there are better facilities which the top teams can use.
I think it is possible. They (Bayern) have done that in China. Of course, it is a question of infrastructure and it is getting better. Once you have that, top teams will definitely want to come and play. It is only a seven-hour flight with maybe four hours of jetlag! You can imagine more European clubs coming for training camps and friendly games, showcasing top-level football to help the league. When they play regularly against Indian players, maybe it might help throw up a good player for your national team.
Maybe India will be able to compete and go to the World Cup. I am coming from China currently. In China, they have an idea to organize the World Cup and have a very good national team. For that you have to work now, training the young players for the future. It is big work and so it's taking time.
Q: Between 1998 and 2000, you had one of the most golden periods a player can have individually. You won the World Cup in 1998 and then you suffered injury-time heartbreak against Manchester United in the Champions League finals in 1999. Then you won the Euro 2000 before finally getting your hands on the Champions League in a penalty-shootout against Valencia in 2001. What would you rank as your favourite individual moment from all this?
It is difficult to say but it is true that between 1998 and 2001, I won the best titles out there in the world. I won the World Cup and European Championship with the national team and also won the European and world title with Bayern. It was a fantastic moment for sure because it is not easy to win all these titles. Everybody dreams about the World Cup and Champions League and to even win one of them is a big satisfaction. I was very lucky to be a part of a great France team and a great Bayern team. If I had to pick, it would be two moments.
The first is the Champions League finals in Milan (2001) when we won on penalties. It was very special because two years ago we lost to Manchester United in the finals where we were ahead but got turned over in the last three to four minutes. So winning in 2001 was special, it was like revenge.
Then, of course, to be World champions with France in our own country, it was as amazing an experience you can have in life. It is not easy to do that, Germany could not do it in 2006, Brazil could not do it in 2014 but we made it. So I know it's very difficult to do and for the people in France, it will remain for all their lives. It will always stay in our blood.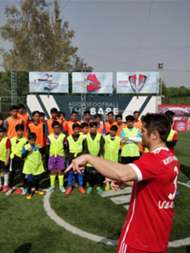 Star sports select is a premium destination for the discerning sports fan. Tune in to Star sports select 1, Star sports select 1 HD , Star sports select 2 and Star sports select 2 HD for all the live Bundesliga action.