Transfers
Baxter: I've never applied for the Bafana Bafana job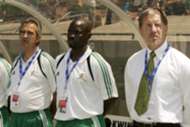 SuperSport United head coach Stuart Baxter has reiterated that he is not in the running for the vacant Bafana Bafana position. 
The 63-year-old mentor revealed that he has never been approached by anyone at the South African Football Association (Safa), before adding that he's thinking about extending his contract with Matsatsantsa. 
"Look, I'm not going to fuel speculation. I'm going to say that I'm really happy here and no one has asked me whether I'm actually in for the Bafana job. I've never applied and spoken to the people and asked for the job," Baxter told the media on Wednesday. 
 
"I'm getting on with my job here, and I can't stop speculation. All I'm saying is that, at this moment, I'm more thinking of extending my contract at SuperSport than I am about leaving," he said.  
Editors' Picks
READ MORE: Bafana's coaching reportedly between Queiroz and Renard 
While he admitted that being linked with the South African senior national team's return is an honour, Baxter said whoever comes in should know that coaching Bafana is not just an ordinary job. 
"I've said all along that, first of all, you've got to know that the job at Safa is a real job... looking for the things to set the game right in this country," he continued. 
 
"It's an honour to coach any national team, any coach will tell you that, but you have to know that it's a proper job first. Until then, I'm not even putting myself in the frame. Until then, I'm just saying that I'm happy at SuperSport," Baxter added. 
Baxter coached Bafana between 2004 and 2005, but he resigned following the country's failure to qualify for the 2006 Fifa World Cup in Germany.