Africa Cup of Nations Qualification
Bafana coach Baxter ropes in Manchester United scout to spy on Nigeria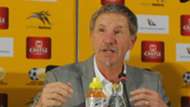 New South Africa coach Stuart Baxter has roped in a Manchester United scout to spy on the Nigerian squad in the French capital city, Paris.
The British tactician, who was re-appointed earlier this month, will be in charge of Bafana Bafana against the Super Eagles next month.
Nigeria are currently camping in Paris ahead of the 2019 Africa Cup of Nations (Afcon) qualifier which will be played in Uyo.
"I've had probably three days away from SuperSport, where I have put my Bafana hat on, and I've gained some intelligence on Nigeria'" Baxter told the media..
"I've got the Manchester United scout who's helping us in Paris," he continued.
"Nigeria are playing Corsica at the Ajaccio Stadium in Corsica' and against Togo in Paris – and they're being watched there," Baxter added.
"I'll get reports on that. I've got video footage' I've got reports' I've got the coach's [Gernot Rohr] background," he added.
"So by the time we come to the event, we'll be quite well-prepared," Baxter concluded.