World Cup
Australia's greatest player Cahill should start for Socceroos at World Cup - Lazaridis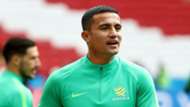 Tim Cahill is still the best option to start up front for Australia at the World Cup, according to his former Socceroos team-mate Stan Lazaridis.
Cahill is Australia's highest-capped outfield player with 106 appearances and his country's all-time leading goalscorer with 50 goals, but he was an unused substitute as the Socceroos lost 2-1 to France in their opening World Cup group game in Russia.
Australia next face Denmark in Samara on Thursday and Lazaridis is hoping coach Bert van Marwijk will call on the 38-year-old Cahill from the start.
"When you're 1-1 with 10 to go and needing some legs, you've probably got one card to play him and you've got to pick him for the game," Lazaridis told  Goal  and Omnisport in Samara.
"I still feel the right changes were made, Bert van Marwijk coached the team really well and I'd rather have a fresh Timmy for one hour that can go and win us a game rather than chase a game.
"He's a natural goalscorer, he knows where to be. He's not going to get the ball from the halfway line and take players on, he's relying on crosses and I think Denmark are the right team to play against so, if you get him service in that 18-yard box, I still think he's good enough to score a goal.
"Him and [Harry] Kewell have been our best players, such good players and gave a profile to Australia. There's been so many that have contributed to our game and, at the end of the day, Timmy will go down as one of the greatest to play for Australia, alongside Harry."
Australia's defeat to France came via a late deflected Paul Pogba strike and they must pick up points in their remaining two games against Denmark and Peru to have a chance of qualifying for the knockout stage.
Lazaridis feels the match against Denmark will be critical to Australia's chances, but is concerned by a potential lack of goal threat.
"I do [think Denmark is a must-win game]," Lazaridis, who earned 60 caps for his country and played in the Premier League with both West Ham and Birmingham, added. "People say if you get a point we're still in it but you leave a lot to do to leave it on that and you're relying on other teams, you've got to have it in your own hands. Denmark play a similar style to Australia so that will suit us and hopefully Timmy Cahill will play and we'll try and get three points.
"The guys have been playing well, it's hard, we had an era there with [Mark] Viduka and these sort of players playing in the Premier League week in, week out so it was a high calibre of player. We probably don't have that high calibre of players [now] but saying that we've still got some very good individuals.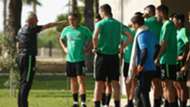 "Our problem has been scoring goals and even through qualifying it was an issue. Defensively we've performed really well, just going forward we just don't have that calibre of player.
"If you'd said at the start of the game [against France] that we would lose 2-1 we'd have probably taken it to be honest, but at 1-1 with 10 minutes to go you start counting down and a point would have been great.
"We know we'll have to beat at least one team to get through and Denmark are certainly the team we've earmarked and then possibly pick up a point against Peru.
"You never know Peru could beat France as well so there'd be four teams on three points, so we'll still be able to get through. We've just got to score a goal, that's our problem at the moment."