Christian Atsu
Atsu reiterates desire to play in the Premier League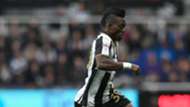 Christian Atsu has given, perhaps, the biggest hint of him staying with newly-promoted English Premier League side Newcastle United.
The 25-year-old's five league goals in the second tier contributed to the Magpies' move up the ladder, but with his current loan spell running out on Sunday, there are fears he may not return to St. James' Park next season.
Atsu is not new to the topflight, having played for Everton and Bournemouth, although both stints didn't go as planned.
"It is my dream to play in the Premier League, that is why I signed for Chelsea," Atsu told the Daily Mail.
"Everyone in Ghana watches our football. Now I have that chance.
"Rafa Benitez has helped me so much this year. He is not only a great coach, but a great man.
"It just didn't work for me at Everton or Bournemouth. I am more focused on my life now. 
"I have forgotten what happened in the past. You need to be in the moment."
With one game to end the season, Atsu has made 31 league appearances involving 14 starts.
Back at Everton in 2014-15, however, the winger made only five league appearances involving one start, while he failed to make an outing at all during a half-season stay with Bournemouth in 2015-16.
Parent club Chelsea, who signed Atsu from Portuguese giants Porto in 2013, have placed a £6.5 million price tag on the attacker.