Shabab Al Ahli
Arabian Gulf Cup final between Al Ahli and Al Shabab to be played at Al Maktoum Stadium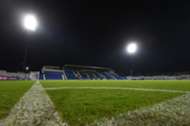 As decided by the Pro League Committee (PLC), the Arabian Gulf Cup final between Al Ahli and Al Shabab will be played at the Al Maktoum Stadium in Dubai.
The encounter is scheduled for April 1, 2017 at the home of Al Nasr Club.
The Pro League Committee have met with Al Nasr Club about coordinating the event, chaired by Mr. Waleed Al Hosani, PLC Acting CEO and attended by working teams for the various concerned departments of the PLC and Al Nasr Club.
Klopp knows trophies are a must for Liverpool
Al Hosani expressed gratitude to Al Nasr Club for accepting to host the Arabian Gulf Cup final for the second year in a row after the eighth edition of the competition last year when Al Wahda won the trophy after beating Al Shabab in the final. Al Hosani also praised Al Nasr Club's efforts and dedication for the success of the event.
A number of issues related to the organising of the event were discussed during the meeting. Further coordination meetings will be held in the upcoming period with various stakeholders, in order to deliver the Arabian Gulf Cup final in the optimum way.