Australia
Ange Postecoglou speaks about Socceroos future: 'No one is talking about my back three'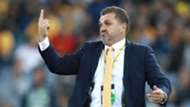 Socceroos boss Ange Postecoglou has again refused to commit himself to coaching the team following their do-or-die World Cup playoff against Honduras in November.
Postecoglou's future has been in question since a report from News Corp's David Davutovic said the 52-year-old would be stepping down from his role after the match against the CONCACAF nation - even if Australia won and qualified for Russia.
A statement released by the Australian coach in the days after failed to confirm or deny the contents of the story, and in an interview with Fox Sports host Adam Peacock, Postecoglou continued to say his sole focus was on getting his country to the World Cup and nothing else.
"My focus is these two games (against Honduras) because if we don't get through these two games, then there is no decision to make - that's the one certainty," Postecoglou said at the NAB Celebration of Football Luncheon.
"It's not because I'm leaving it out there for people to talk about or have conjecture about, it's just I've set up the environment like that.
"I say to the players every time I walk in to camp, 'we've all got 10 days, two games'.
"Even if we qualify for the World Cup, I can't guarantee all those players are going to be there.
"So I'm not going to go out there and start thinking about what happens post these next two games - because they are just too important."
The former Brisbane Roar and Melbourne Victory coach said he understood the fascination with his future but expressed his surprise at some of the speculation.
He also flatly denied any displeasure with leading the national team.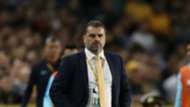 "From my perspective, it's interesting because I haven't said anything, to hear it all play out," Postecoglou said.
"I get the interest in it – some of the commentary around it is a bit bewildering for me.
"I guess people are trying to figure out a reason why, and it's certainly not because I'm not enjoying it
"This is the greatest honour you can possibly have – I love every minute of coaching my country.
"I know I'm in a pretty special place and I love every minute of it."
Postecoglou's back three formation has been the target of intense criticism since it's implementation following the draw against Thailand last November, with the team only winning four of its 10 matches since.
He suggested to the laughs of the audience at the event that speculation about his future had halted the criticism about his tactics and the FFA congress.
"It's obviously been a hell of a talking point and for me it's served its purpose because no one is talking about the back three anymore. It's certainly helped in that area," Postecoglou said.
"No one is talking about the congress – David (Gallop) is really happy."
When reminded by Peacock that he would have to repeatedly answer questions about his future leading up to the Honduras match, Postecoglou revealed he wasn't concerned about the incoming barrage and said critics 'don't know me'.
He also pointed out that he himself was appointed into the Australian coaching role after the team had qualified for the 2010 World Cup.
"I don't really care to be honest. It's not what is important to me. It's not how I think, it's not how I work and I guess people don't understand that because they don't know me," he said.
"A lot of people think they know me - but they don't. It's not the way I'm like.
"These two games are more important to me than anything else.
"The last coach qualified for the World Cup and he wasn't there it came around – so there is no guarantees about anything."
Australia travel to Honduras for the first leg on November 11 (AEDT) before returning to Sydney for the decider four days later.