Transfers
AmaZulu address reports that Mabhuti Khenyeza could return to Golden Arrows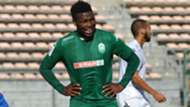 AmaZulu have denied media reports that Mabhuti Khenyeza has signed a pre-contract with Golden Arrows. 
According to the club's team manager, Qedi Dlamini, Khenyeza distanced himself from the reports in a meeting with the management. 
"We have spoken to him, he has confirmed to us that he has not signed any pre-contract with anyone. Obviously Mabhuti is on a one year contract. For us what we want to stress and warn our supporters about, is that at this time of the season there would be people looking to try and stop the progress of the club by inventing rumours out of thin air," Dlamini told the AmaZulu website. 
Dlamini added that Khenyeza could even be given a coaching role within the club at the end of the season. 
He said the club has an open door policy to ensure that all the stakeholders, including the fans, are not kept in the dark with what's going at Usuthu. 
"The player has even spoken to us about possibilities that he may look to explore come end of season which entails the possibility of coaching. As far as playing contracts are concerned Mabhuti is an experienced player who is honest and doesn't play hide and seek regarding his wishes," added Dlamini.
"We have always opened our doors to anyone who has a burning question on certain aspects about the club. Our supporters are free to call us, club matters are addressed accordingly, our people must not fall for false stories," concludes Dlamini.
Khenyeza, 35, also refuted claims that he could make a sensational return to Abafana Bes'thende. 
"I am still contracted with the team. I will not deal with issues from behind, I'll come straight and tell the team about my career," said Khenyeza