Super League
Alvaro Silva set for Kedah debut against PKNS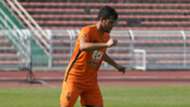 After two succesive defeats in the Super League to Johor Darul Ta'zim and Perak respectively, Kedah finally got their act together in the previous match against PKNP FC to triumphed 1-0 and earned their first points of the season.
Now there are more good news from the camp as defender Silva is expected to be used for the first time since becoming their ASEAN import. This to add to the return from suspension of Liridon, and the mood around the team is undeniably a positive one.
Ramon Marcote is understandably excited that for the first time this season, he could well field Kedah's best XI in the same match and fans may finally be able to see just what this team is all about.
"I hope that with the return of key players like Alvaro Silva and Liridon Krasniqi, it can make the team stronger. Every coach wants to field their best players to play the way they want. That is also my wish to see the best Kedah line-up get onto the pitch against PKNS."
"We must remain wary of PKNS who have good and experienced local players like Safee Sali and Mahalli Jasuli. Playing them away will be a tough test but I'm sure we will be able to give them a good fight," said Marcote in a Berita Harian report.
The task facing the Red Eagles is not an easy one as they will go up against the team who are the league leaders prior to the start Round 4 of the Super League.
K. Rajagopal's side are one of two teams left still to be beaten this season and that itself is already an indication of the tough task that lies await. 
The match could also see Kedah go up against one of their former boys as Zachary Anderson now plays for the Red Ants.