Tottenham Hotspur
Shearer: Kane can break my goal record but he's not at Messi or Ronaldo level yet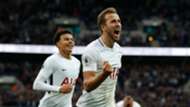 Harry Kane can become the most prolific forward in Premier League history, according to Alan Shearer, who is the current holder of that accolade.
The England legend finished his career with 260 strikes in the English top flight during spells with Southampton, Blackburn and Newcastle, but he believes that the Tottenham ace has it in him to better that tally, although he says the 24-year-old must prove himself at the top level before being compared to Lionel Messi or Cristiano Ronaldo.
Kane, who will miss Spurs' trip to Manchester United on Saturday with a hamstring injury, has scored 13 times in 12 outings this term, having established himself as one of the Premier League's elite goal scorers.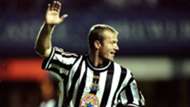 "He's really, really good and has a chance of breaking my record if, and it's a big if, he remains injury free," he told Goal on the sidelines of the Premier League LIVE event in India.
"Nowadays, with the pace of the game and the number of games, it's difficult to remain injury free. If you have no more than one serious injury these days throughout your career, you're fortunate." 
With clubs like Real Madrid rumoured to be plotting a move for the forward, Shearer believes that Tottenham need to break a trophy duck stretching back to 2008, when they won the League Cup, if they are to keep the forward and give him a chance of surpassing his mark. 
"He can break the record if he stays in the Premier League. That depends on how successful Spurs are over the next two, three years," he added.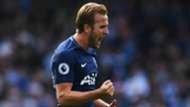 Kane has also translated his domestic form to Europe this season but Shearer wants to see the striker perform consistently in the Champions League to propel himself into the bracket of the elite stars. 
"He needs to do it at an international level, in a tournament to be counted among the elite," Shearer added. "And of course, he needs to do it regularly in the Champions League. When we talk of Lionel Messi or Cristiano Ronaldo, these guys have been doing that for years now. 
"Harry has been doing it in the Premier League for a couple of years, now he has to take it further and do it on the big stage."
Shearer, who took charge of Newcastle United on an interim basis in 2009, is working as a TV pundit currently and does not plan on going back to a managerial job anytime soon. 
"I'd be surprised if that were to happen," he said. "I'm very happy with what I've been doing. I'm loving what I'm doing, I'm a fortunate guy to be doing what I'm doing."