NPFL
Alaekwe thumbs up FC Ifeanyiubah's institution of individual awards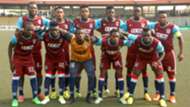 FC Ifeanyiubah have not had the best of start to the season and went on a three games winless run but they got their groove back in their home win over Heartland on Sunday and Chijioke Alaekwe has given reasons for the club's massive change in fortune.
The forward that the club's management's institution of individual awards which made its debut against their Oriental neighbours has given them renewed motivation.
"We didn't do well in our last home game before the one with Heartland when we drew against Akwa United and the players, coaches and the management have been involved in lots of discussions to address our early season slide," Alaekwe told Goal.
"It was this that made the management to start rewarding individual players that excelled during the match.
"Tony Monster and Bamba Drissa received the Most Valuable Player and clean sheet awards in our game with Heartland and we have been assured that it will continue like that until the end of the season.
"We know that we have the players to get the job done but what we actually needed was just a push which these awards will do for us. They will motivate us to go extra mile and to offer our services wholeheartedly knowing that there is a reward."