African All Stars
One good turn: Beleaguered Ahmed Musa needs Nigeria more than ever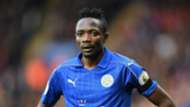 ---
COMMENT    By Solace Chukwu    

Follow on Twitter
---
Ahmed Musa is the second most expensive player in Leicester City's history. He has played professional football in four different countries, in climactic extremes spanning sub-Saharan African and Arctic Russia. He has earned over half a century of international caps for Nigeria, played and scored at the World Cup, and has captained the Super Eagles.
He is well off, very much so especially by the standard of a country in which, by UN estimates, more than half of the citizenry lives below the poverty line. Mansa Musa he is not, but through that prism, he is wealthy, affluent even. The notion that he can have problems is hard to comprehend for most.
And yet, Ahmed Musa is 24 years old. He has played roughly 22 hours of football since moving to the East Midlands on July 8 2016, has seen the manager who signed off on his acquisition sacked, and is in bad odour with the present boss. He has been questioned by police pertaining to possible domestic violence, been exonerated, is in the middle of divorce proceedings, and is in the process of taking on a new spouse.
He has been passed over as captain of the national team, in spite of being vice-captain, in the absence of Mikel John Obi.
Simply put, Musa is going through the toughest phase of his career.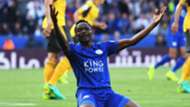 He is not exempt from responsibility, of course. No attempt should be made to view this as some great persecution, even though the latter situation with the captaincy is akin to the temptation of a weary Christ in the wilderness. He may be young, but he is no infant.
While he is not responsible for Leicester City's decision to sign a player who so obviously was a troublesome tactical fit, he is culpable for a lack of endeavour, and a pace of learning that has reportedly left the staff at the King Power Stadium frustrated.
Ahmed Musa | 2016-17 Premier League stats
It has been established that he did not in any way physically abuse his wife, and his Islamic faith allows him to marry more than one wife, and yet a source familiar with Musa reveals that the player has lost a bit of focus and discipline since his move to England.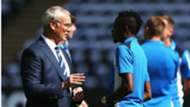 It is nothing unusual for a player of that age. For all his experience, it is easy to forget this is a player yet to even enter his prime. Now he stands at a crucial juncture in his career. Leicester manager Craig Shakespeare has insisted Musa remains in his plans, but barring a huge miracle, it is hard to see how the Foxes don't cut their losses and try to move the former Kano Pillars prodigy on in the summer.
It would represent the first real downward trend of his career, the first time he will have been turned away for not fitting the bill.
This is why it is imperative that the national team step up and build a support structure around him. Now more than ever there must be a conscious effort by Gernot Rohr and his crew to put an arm around him and make him feel a part of the group.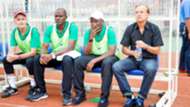 It is troubling then the lack of sensitivity displayed in the recent friendly against Senegal.
Rohr had wisely, up until that point, steered clear of the politics within the squad, focusing on the footballing aspect and trusting captain Mikel to keep everyone singing from the same page. Yet, by pointedly shunning Musa, dismissively stating a preference for a captain playing regularly, he has played a very poor hand indeed.
As is, the double dose of rejection from both club and country may do some damage to Musa's career, from which he might be unable to recover.
Without a doubt, it would be nigh on impossible for Musa to land on his feet if he is ostracized from the national team. There may be no consensus as to how his time with the Super Eagles ought to be viewed – there have been highs and lows – but there is no question regarding his commitment at all times.
Perhaps it is time to pay him back. Much as loyalty is demanded, it is only fair that it be given as well. The national team is brimming with young attacking talent now, but it was not always so.
There was someone who was a shining light in leaner times.
His name is Ahmed Musa, and he needs our help.