AFC Champions League
AFC Champions League 2017: Toyota Asia Player of the Week - Ko Seung-Beom shines in Suwon Bluewings' 5-star win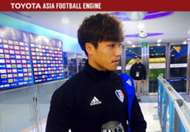 Going into matchday four of the Asian Football Confederation (AFC) Champions League 2017, Suwon Bluewings had a golden opportunity to fly to the top of Group G as they hosted minnows Eastern SC from Hong Kong. They would go on to do that in some style with a 5-0 scoreline. 
Though Suwon's opponents, coached by female coach Chan Yuen-ting, had suffered heavy losses previously, they were certainly capable of holding off superior attacks, as evidenced by their 1-1 draw against Japanese outfit Kawasaki Frontale on matchday two. 
The initial period of the game on Wednesday seemed as though Eastern SC were going to frustrate Suwon Bluewings with scores of attacks from the home side met by a defiant wall, until Ko Seung-Beom took matters into his own hands. 
Editors' Picks
The 22-year-old winger reacted sharply to get on to a parry from the Eastern goalkeeper from a shot and had the composure to chip a brilliant cross for Yeom Ki-Hun to open the scoring.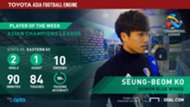 The South Korean, who was deployed on the right extreme of the midfield in a 3-5-2 formation, would go on to open the barrage of goals in the second-half. Just past the hour mark, he doubled Suwon's advantage by unleashing a rasping volley from just inside the area before finishing off the scoring with an arrowing finish into the far corner from a similar position as to that of his first goal. 
Ko's influence on the game went much beyond the two goals and an assist he racked up. Playing the extremely crucial role of a winger/wing-back in a 3-5-2, he was noting short of terrific and was constantly involved in the game, as shown by his 84 touches of the ball during the game. 
He kept the Eastern defence on the toes with his runs down the right flank, during which he put in a commendable 10 crosses with a 40% success rate. His passing accuracy was phenomenal as well - at a high 96%.  
It is no wonder that the young winger is the Toyota Asian Player of the week.