NPFL
Usman Abdallah allays injury fears in Enyimba ahead of Bidvest Wits test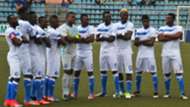 Enyimba coach Usman Abdallah has dispelled insinuations that the People's Elephant qualification for the group stage of the Caf Confederation Cup could be in jeopardy because of injuries to some of the players of the team.
The seven times league champions have lost Mfon Udoh and Yinka Onaolapo to long-term injuries while three more players joined the list on Wednesday after Stephen Chukwude, Mustapha Ibrahim and Ikechukwu Ezenwa were unable to complete their rescheduled league tie against Kwara United in Ilorin but Abdallah insists there is no cause for alarm.
"I don't think we have any problem with our preparation for the return leg of the Caf Confederation Cup tie with Bidvest Wits of South Africa because we just got a draw against Kwara United in a league tie and everything is going according to plans," Abdallah told Goal.
Editors' Picks
"We have injury worries just like other teams have too and I don't think ours is the most serious. We have everything under control and nothing will stand between us and the group stage of the Caf Confederation Cup because we are ready for Bidvest.
"We are monitoring the situation of Mfon Udoh and Yinka (Onaolapo). The injuries to Chukwude, Mustapha and Ezenwa are very unfortunate but it is no reason to blow an alarm over. They are minor injuries and we have them replaced so that they don't aggravate the complaints they had and I am sure that after few days they will be back on their feet.
The France trained coach noted that the People's Elephant are having the best of build up for the crucial second leg tie and that the players have been reminded that they must step up their performance and not underrate the South Africans despite the draw in Johannesburg.
"We know that we must prepare very well for the return leg. We might have played a draw in South Africa; we know that Bidvest will be coming into the second leg tie brimming with confidence that they can turn the table.
"We have told the players not to be complacent knowing that their next midweek foes will still be nursing the hope of qualifying for the group stage. We must help them extinguish their hope in Calabar," he concluded.