By Brian Oliver
Marco van Basten believes the two semi-finals of this season's Champions League showed
Juventus
what they can do and what they must do if they are to beat
Barcelona
in the final in Berlin on Saturday.
Their main aim, he told
Goal
, must be to stop Andres Iniesta and Lionel Messi. But the Italians' victory against Real Madrid has given them the confidence to do so.
"If you ever want to see how one player can make a difference, the last 15 minutes of Barcelona against Bayern Munich in the first game of the semi-final shows the lot," said Van Basten.
"Lionel Messi was exceptional. He made it 1-0, he made it 2-0 and made the pass for 3-0.
"I played against Maradona and he was a great player like Messi too. There is a big difference between 25 years ago and now, though."
Maradona and Van Basten had more space to play in, and the game today has become much more compressed, said Van Basten, who will be in Berlin as an ambassador for Nissan. If Juventus can keep it even tighter, he said, they can win.
"We had an area of maybe 40 metres by 50 metres in which we could play; now it's so tight it's only half of that," he explained. "Players have lost 20 metres of space and there might be 10 players between them and the penalty area when they get the ball.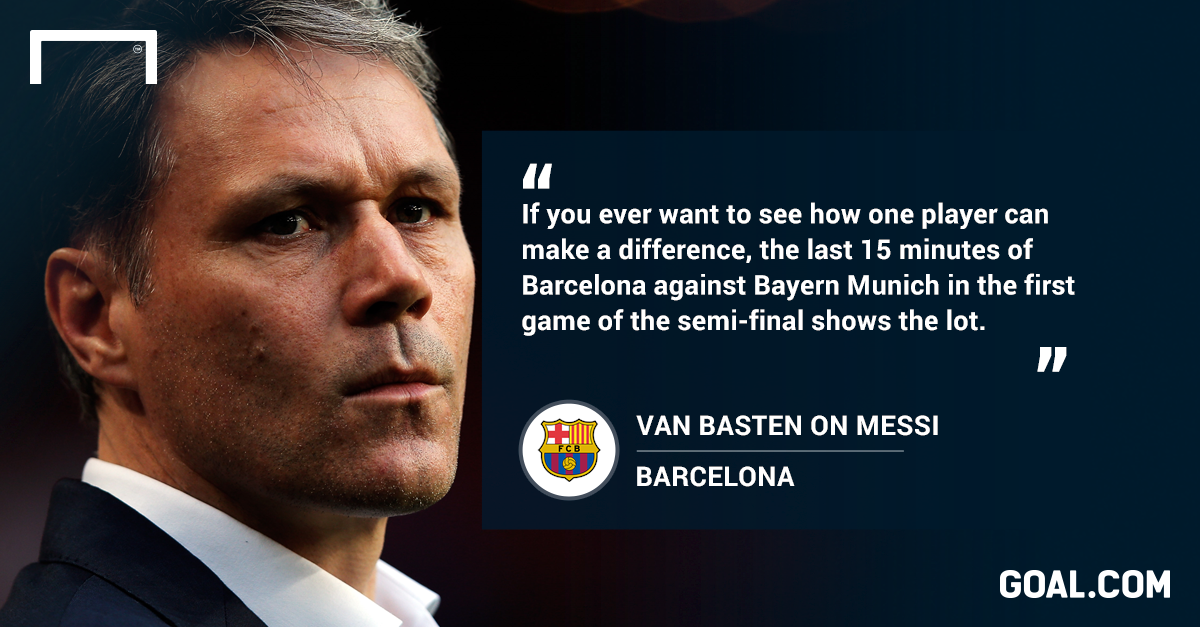 "You must have very good technique, be very clever to get through the defence, play quick one-twos. That is very, very difficult, and it's the biggest change between then and now.
"The important thing for Juventus is to stop Iniesta and Messi. The others are good, but not that good – these are the two who can make the difference.
"Juventus have to stay so close, mark them very tight, deny them space – and most of all they must stay concentrated. If they do that, Juventus can win. With a good, organised defence, and if they counter well, Juve can beat Barcelona."
There is a precedent for an Italian team upsetting the odds against Barcelona, said Van Basten, who played in the AC Milan team that won in 1989 and 1990 – the last time any club retained the European title.
"I was in Athens in 1994 when everybody expected Barcelona to win against Milan," he recalled.
"They had [Hristo] Stoichkov and Romario, Johan Cruyff as manager and everyone talked them up but we [Milan] were very organised. We played well and we killed them, 4-0. That was a nice example of the level of Italian football – well organised, physically strong.
"Juventus already beat Real Madrid in the semi-final and that will have given them the confidence of knowing they can beat the best. They know it's possible, and I think it's possible."