SPECIAL
By Lolade Adewuyi
The Ethiopia Football Federation confirmed the sacking of Sewnet Bishaw at a press conference in Addis Ababa on Wednesday evening, claiming it needed to start a new era for the national team.
The 62-year-old is credited with leading a renaissance of the Walias who returned to the international football stage after 31 years of absence and almost qualified for their first World Cup last year.
A founding member of the Confederation of African Football, Ethiopia won the 1962 Africa Cup of Nations on home soil, when the tournament was still a four-nation event. Then they disappeared from the international scene in 1982 only to return at South Africa 2013 where they played an eye-catching game with a strong midfield performance that troubled many sides, including defending champions Zambia and eventual winners Nigeria.
All this is put down to Sewnet's work in his second spell as coach of the team. After taking over from Belgian Tom Saintfiet in 2011, the coach engineered the team into a stronger side that was more confident with the ball at their feet.
He tried to help them improve their stamina as well.
Sewnet told this writer in Addis Ababa in October 2013 that the bane of East African football was the lack of players' stamina. The region had failed to produce great footballers in recent times because players were lacking in the physical ability to play the game like their counterparts from West and North Africa.
Bishaw helped Ethiopia reach the play off stage of the 2014 World Cup qualifiers after edging out South Africa and Botswana in the group stage. They then faced African champions Nigeria and lost over two legs.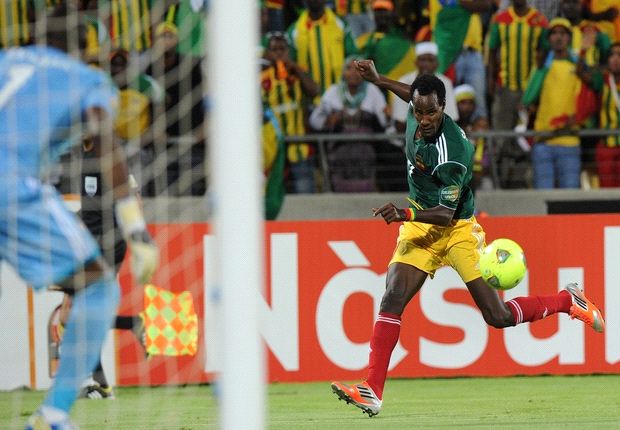 Saladin Said | A star of Sewnet's era
Notwithstanding, Sewnet had become a hero among his countrymen. He had returned them to the forefront of the world's biggest sport where they could look forward to playing among the big names.
With many years of dominance by long distance runners, Ethiopian footballers began to be respected again. Players like Saladin Said, Getaneh Kebede and Adane Girma became the flag bearers of Ethiopian pride and Sewnet was their architect. Ecstatic fans wore the national team jersey with pride once again.
He was celebrated by the Ethiopian one-party state as part of the great development plan that it had put in place. He could do no wrong and authorities threatened to arrest journalists who criticised him openly.
However, Sewnet's bubble bust after his team got eliminated early at the African Nations Championship that South Africa hosted last month. The Walias once again could not make it past the group stage as they lost all three matches against eventual winners Libya, runners-up Ghana and Congo.
On returning home, Sewnet criticised the country's sports infrastructure deficit for contributing to his team's poor performance at the tournament. He told local media that Ethiopia would continue to lag behind the teams from North and West Africa for years to come until the country puts down better structures for the game.
The Walias play their international matches at the National Stadium in Addis Ababa which was constructed in 1940 and was last renovated in 1999. The 35,000-seater, that has seen better days, is also home to local clubs Ethiopian Coffee and Saint George. The media tribune is a cramped space without platforms to place computers while visiting teams have complained about the state of the pitch.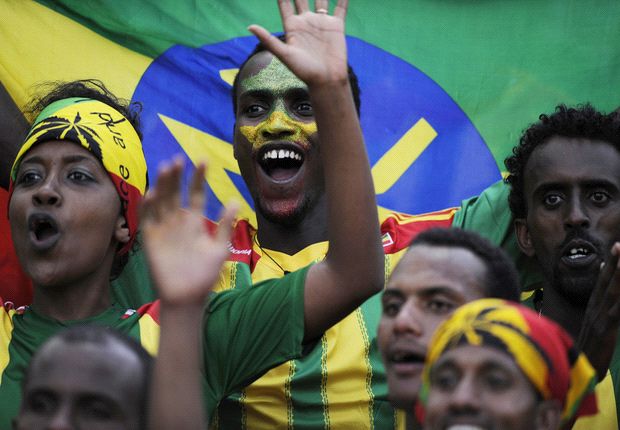 Pride & Joy | Ethiopian fans returned to the international stage
Apparently, the coach's biting criticism of his country's infrastructure did not go down well with the government's rhetoric of national pride and he was given the sack by the football administration.
"Sewnet is a hero for our football; he brought us back to the international scene, we recognise his success in the last two years but things must continue to grow," EFF president Juniedin Basha defended the sacking in an interview with the BBC.
For many, Sewnet will be remembered as the key to Ethiopia's resurgence. Nigeria coach Stephen Keshi spoke of him as a "very good coach" who loves the game and that "Ethiopia should be happy that they have a coach like [him]."
Ethiopian journalist and BBC correspondent Betemariam Hailu says he will be remembered for bringing a winning mentality to the national team.
"Before Sewnet's era, Ethiopia always struggled to score an away goal because the team leaves Addis Ababa with a defeated mentality. But after he took the team, they amazingly started to score away goals," Betemariam told Goal.
The Walias drew with South Africa in their first World Cup qualifying match, they scored three goals against Sudan in AFCON play-off which helped them qualify for the tournament after a 2-0 win in Addis. They beat Botswana and Central African Republic away from home and made it to the last ten of the World Cup qualifiers.
"This has not happened in Ethiopian football in the last 30 years. Sewnet brought it, a winning mentality, a fighting spirit," he said.
Now without a coach, Ethiopia will look to hire someone with experience and are likely to look towards Europe. They will be keen to maintain the momentum and growth that Sewnet has attained.
Still, they need to improve on their infrastructure otherwise they will continue to be underachievers.