COMMENT
By Kris Voakes
Barcelona's away-goals triumph over Paris Saint-Germain reiterated one thing we already knew and another many of us had begun to suspect some time ago.
Lionel Messi's return as a substitute and the impact he immediately had on the game was a reminder that he remains by some distance the best player in the world, but the 62 minutes which preceded his introduction were a clear signal that the Blaugrana can be rather fallible without their magical No.10 to turn to.
So when Bayern Munich were paired with the Catalan giants in Friday's Champions League semi-final draw in Nyon, the news will have been greeted by fans and staff alike with cautious optimism. Yes, they are coming up against the planet's greatest player, but they are also set to face a team that is increasingly becoming one-dimensional. And, whether Messi is fit or not come April 23, Bayern are really the masters of their own destiny.
BAYERN'S SEASON IN NUMBERS


Competition

League
Champions
Pokal


Goals for
per game

2.82
2.20
2.75



Goals against per game

0.46
1.00
0.00


While the gameplan of passing the ball to Messi and seeing what he can do with it is probably one of the most effective weapons any team has, there appear far fewer alternatives available to Tito Vilanova than was once the case. No longer do they look quite the dominant force they did. Even with Xavi passing at a 100 per cent success rate on Wednesday, PSG looked to have Barca's number until Messi arrived on the field.
Add in the fact that they looked a shadow of themselves when AC Milan used an umbrella marking policy to quell the threat of Messi in the first leg of their last-16 clash and doubts begin to creep in about the four-time European champions' effectiveness. The Rossoneri enjoyed only 34 per cent of possession at San Siro, but their clever tactical approach allowed them to get in more shots at goal than Barca and eventually secure a 2-0 win.
Had PSG shown as much thirst for ramming home their advantage after the Argentine arrived on the Camp Nou field on Wednesday as they had before his introduction, then it may have been a Franco-German clash we were looking forward to in the last four. But their instinct was to panic at the sight of the substitution board with a number 10 in green lights.
On the other hand, Bayern are the most destructive unit in football right now. With a forward line which offers pace, power, finesse and flair - and a midfield department performing as well as any in the world - they are arguably the team to beat out of the last four.
And while the Bavarians may well not have the most reliable defence, they have enough talent to make amends for that, as exemplified by a magnificent record for goals conceded this term. They have also been second only to Barca in terms of successful ball retention this term and, unlike the Blaugrana, they have many different avenues for creating opportunities. Taking that into account, one suspects that if they can hold onto the ball for long spells and use their pace out wide to great effect, then die Roten can effectively neuter Messi by forcing Barca to begin attacks from unfamiliar deeper areas.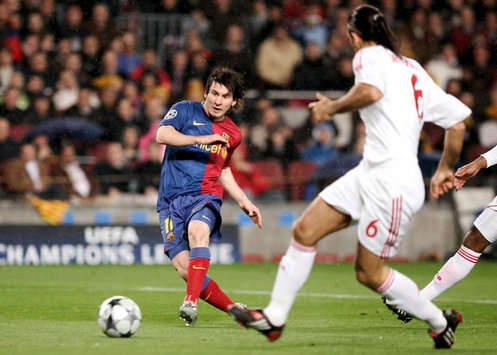 Messi batters Bayern | But the 2013 version of the Bavarians have more in their armoury
The newly-crowned Bundesliga champions showed against Juventus that they can knock a team built on the foundations of ball retention in opposition territory out of their stride with their pressing game and excellent attacking unit. They proved by making a passenger out of Andrea Pirlo that they can turn the threat of a midfield pass-master into an opportunity to regain quick possession and strike from high areas.
And there is no real evidence to suggest that they cannot do the same to Barcelona. Some Germans got excitable about Bayern's chances the last time these two teams met in 2009, only to see a Messi-inspired destruction at Camp Nou, but this time is very different. Jurgen Klinsmann's pretenders these Bayern players are not. Instead, Jupp Heynckes has put together a far more influential unit that looks as ready as anyone to bring down the Blaugrana.
We have already seen that Barca's defence can be weak when put under pressure. We have witnessed how they lack creative ideas for breaking down resolute units when Messi is taken out of the equation. There has been more than enough evidence of an eroding around the edges of that mystique that they built up over a five-year period. Just because they have sidestepped a couple of obstacles and remain in the competition, it doesn't mean they are destined to win it again.
It all depends on Bayern. Messi can be the key if they allow him to be but, if FC Hollywood play to their own strengths and carry out to the letter the kind of plans that have already worked for them this season, then the world's best player may not even get a look-in.