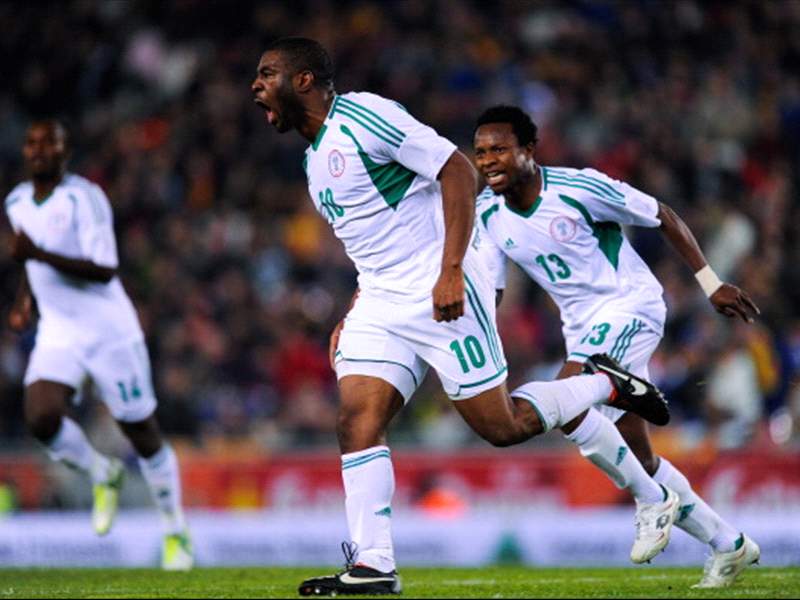 COMMENT
By Ed Dove

STRIKERS WRITE THEIR OWN FUTURES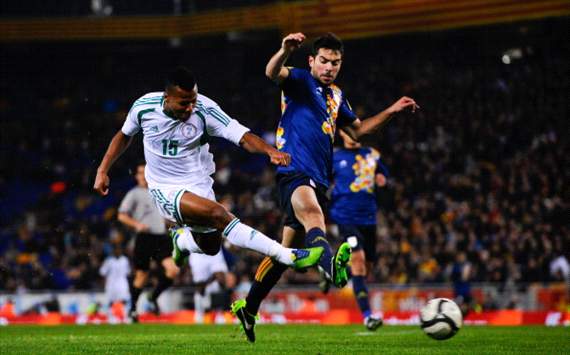 As I considered in my previous article, previewing this matchup, a great deal of coverage preceding Nigeria's Afcon campaign has focused upon those players who have been omitted from the squad, rather than those who will be making the trip to South Africa. The column inches have been dominated by Peter Odemwingie and Obafemi Martins – two tip top hotshots, neither of whom will be adding to their Afcon tallies any time soon.
Similarly, Shola Ameobi: a new addition to the international fold, but now out of the equation having been convinced by his club manager Alan Pardew to stay at Newcastle and try and help the club rise from their sticky situation just above the league's trapdoor. Whilst the response to Ameobi's abdication from Stephen Keshi and others at the NFF has been, outwardly, all good nature and benevolence, I can't help but imagine a tempered bristling in the federation's hallowed corridors as Ameobi, hardly a spring chicken at 31, refused the chance to compete on the international stage with the Super Eagles.
I had interpreted the player's inclusion against Venezuela in November's Miami friendly as a sign that Keshi was thinking about a Plan B for the Afcon. Aware of the need to diversify his attacking options, particularly against the more resilient opponents likely to be encountered in the latter stages, Ameobi was included to offer a physical, imposing, experienced counterpoint to the plucky bucks of Musa, Moses, and Ikechukwu Uche. This view was enforced by the exclusions of Odemwingie and Martins from Keshi's initial squad of 32 – why include a pair of swift, sharp strikers who offer little variety from the first XI, when you can count on the presence and aerial threat of Ameobi?
Well now all three of them will be missing from the continental centrepiece, and you could perhaps have forgiven a sliver of regret in Keshi's heart as he strode out to face Catalonia at the Estadi Cornellà El Prat on Wednesday.
And then Bright Dike turned up, six foot one of Oklahoma thoroughbred – and it was as thought the MLS couldn't keep their Nigerian powerhouse under wraps any longer, soon we all knew about him; Victor Valdes didn't see him coming, Carles Puyol couldn't prevent his vision and desire, and Xavi Hernandez could only watch and admire as the Portland Timbers striker burst through the backline and put the Super Eagles in a position of parity with the Spanish sporting equivalent of the Royal Family.
Back in the middle of November, I predicted Nigeria's Cup of Nations team, and placed Dike in the 'unlikely' column for strikers – suggesting that his chances of making the tournament squad were slim at best. Now, one swallow does not a summer make, but after taking on some of the world's finest and somersaulting himself into the starlight, Dike may well be the ace up Keshi's sleeve, and the physical Plan B Nigeria need as the optimism of January becomes the asperity of February.
HOMEGROWN EAGLES - A STURDY BUNCH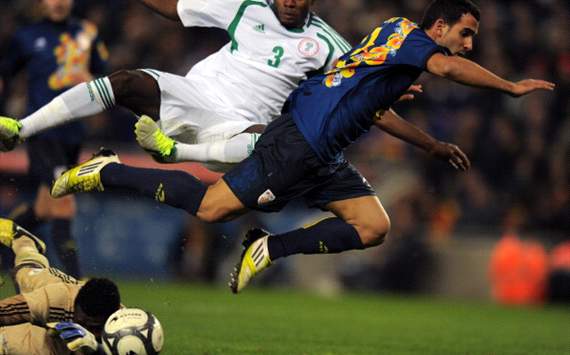 Another issue that perturbed this writer concerned the fortitude and moral fibre of our domestic-based players when taxed with trials the like of which they had never before encountered. It is one thing to be placed under the spotlight in an Afcon qualifier in Monrovia, one thing to represent Naija in a glitzy friendly in Florida, but another thing altogether, a whole different ballgame, to take on the world's finest on their own patch, to keep one's composure and not yield.
The Catalonia team that took on the Super Eagles contained World Cup winners, European Championship winners, Champions League winners, La Liga winners, men who have taken on the globe and returned as conquering heroes, the scalps of a generation's finest around their necks. Nigeria at home, an experimental side shorn of some of their stars, ought not to have provided too stern a challenge, particularly considering the sentimental value attached to the spectacle of the departing Johan Cruyff – a true legend in that part of the world.
With Danny Shittu having ruled himself out of contention, and the likes of Onyekachi Apam and Taye Taiwo not making the cut for Keshi's squad, there was a danger that Nigeria would take on La Segadora without the nous and experience needed to compete with such a seasoned collection of professionals. As Catalonia took the lead early on through a Sergio Gonzalez, it would have been natural had a few younger heads dipped at the prospect of 87 more minutes against a side that contained no fewer than ten Barcelona stars.
But they didn't, and Dike's 55th minute equaliser, coupled with the team's sustained vigour and enthusiasm gave the impression of a side short neither on confidence nor endeavour. Fengor Ogude, who 'handed' Catalonia a penalty on three minutes, was not too cowed by his pricey error, nor was the Super Eagles' captain and keeper Chigozie Agbim phased by conceding so early on.
Despite being starved of the ball throughout the game, and with a repeat of 1998's 5-0 defeat against the same opposition looming large in their memory, it was conceivable that Keshi's men could have crumbled at losing the early goal. Instead, they held firm, remained resolved, and when the boss brought in some of the more experienced cavalry at half term, they were in a position to seek out some compensation from their regal hosts. Credit must also go to two Europe-based youngsters, Ogenyi Onazi and Kenneth Omeruo, both of whom looked mature beyond their years when faced with much more established opponents.
Still, there is some room for improvement, and whilst Godfrey Oboabona will fancy his chances of partnering Joseph Yobo against Burkina Faso on January 21 after an impressive display, the likes of Solomon Kwambe, Benjamin Francis, and Sunday Mba will have to up their game to fulfill Cruyff's prophecy and carry Nigeria far into the impending Afcon.