FEATURE

By Lolade Adewuyi | Nigeria Chief Editor

The first time I attempted to enter the main bowl of the National Stadium, Lagos, I was turned back by the security men on duty. They told me that the gates were shut at 11am. I could see from where I stood as three athletes who had been locked inside for failing to leave early begged to be let out, I knew that no amount of entreaties could get me inside that day.
Joyous days | The Nigerian team celebrating after defeating Algeria in 1980


The polite security official told me, "come back on Wednesday, we only open on Monday, Wednesday and Friday, 7am till 11am."
So I left disappointed and wondering, what stadium opens to athletes just three times a week? The National Stadium in Lagos is supposed to be a national treasure. It is where many of Nigeria's top athletes were nurtured.
| | |
| --- | --- |
| | THE NATIONAL STADIUM, LAGOS: QUICK FACTS |
| 1972 | It was built to host the multi-sport 1973 All Africa Games. It was a 45,000 capacity stadium. |
| 1980 | Nigeria hosted and won the Africa Cup of Nations defeating Algeria 3-0 in the final. |
| 1999 | The stadium's capacity was increased to 55,000 as Nigeria hosted the Fifa World Youth Championship that was won by Spain. |
| 2003 | The Abuja National Stadium was commissioned thereby taking attention away from Lagos. It was the beginning of the arena's decline. |
| 2004 | The LG Cup was the last football tournament hosted in the stadium. It became a venue for religious crusades and has since gone into disrepair. |
It was the scene of Nigeria's first continental triumph at the 1980 Africa Cup of Nations. Young men like Segun Odegbami, Christian Chukwu, Muda Lawal, Adokie Amiesimaka, Nwosu, Best Ogedegbe Felix Owolabi and Kadiri Ikhana to mention but a few made their name playing in that stadium. It was where they defeated Algeria 3-0 in that memorable final 32 years ago. Many of us who were not born were told of the heroic exploits of these men who put Nigeria in the circuit of champions.
Even if one didn't see Odegbami run the flanks in his mathematical style during the 1980 tournament, I clearly recall Austin Okocha's mesmerising dribbles 20 years later when Nigeria co-hosted the tournament with Ghana. Can one forget Julius Aghahowa's goal against Senegal that rescued us from elimination in the quarter finals? How about an obviously ill Sunday Oliseh jumping up from the bench to help propel the team forward? It was the scene of Kanu Nwankwo's memorable penalty miss against Cameroon in that final. It was the venue where Samuel Eto'o and Patrick Mboma confounded our entire country. In contrast to the joy felt two decades earlier, it was Rigobert Song who lifted the Afcon trophy in our very presence in Surulere.
Bitter sweet memories, all of them.
So when I finally got the opportunity to enter the stadium a week later, it was with utmost awe that I walked on that hallowed pitch. Instead of finding a lush green pitch that should be a tribute to the big stars that had played on its surface in the past, all that is left is a bumpy surface with tufts of grass scattered all over. You could feel it undulating under your shoes. The tartan tracks where Olympic medalists Mary Onyali and Falilat Ogunkoya once created records have holes in them. They have been destroyed by the elements.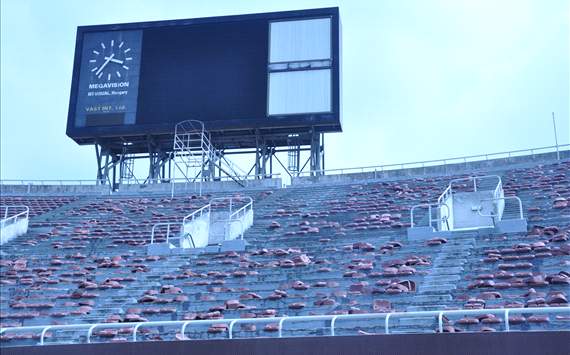 No more singing | Seats where supporters once cheered have gone bad
The stands where many fans sat to cheer their darling Super Eagles to victory have gone bad. Seats have been uprooted all over the stadium. Refuse lines the underground dressing room. Toilets are overflowing with human waste.
Sadly, Nigeria's home of football is no more, it's now a shadow of its old greatness. As the country's athletes continue to prepare for the London Olympics, the National Stadium is not a place where one might find medal prospects. But still the athletes try their best, they train without adequate equipment. They keep throwing the javelins without measuring equipments to gauge their progress. They keep running on bad tracks in hopes that they would break world records some day. They keep pushing their bodies to the limits in hope of future sporting glory.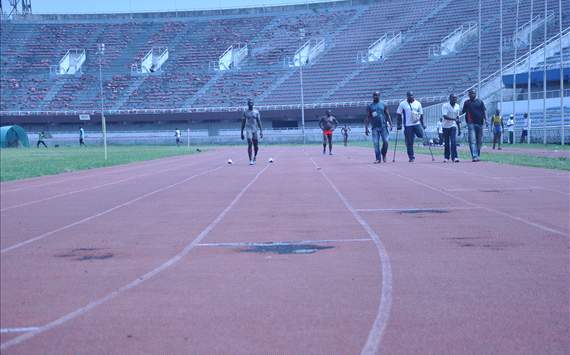 Tattered tracks | Record setting tracks are worn out
However, at 11am everyone has to rush out of the stadium. The rules here do not encourage you to stay behind to do extra work on your techniques. You either leave or you're locked in.
I scurried out alongside the departing athletes. Will we ever reach the golden heights of yesteryears if we allow a treasure like the National Stadium go to waste?
What a shame.