By Peter Staunton
The stage is set for Gareth Bale to return to his home city a champion. It was, in effect, Gareth Bale's goal which solidified Madrid's grip on the Champions League trophy in May and their place in this traditional continental season opener. He put his side 2-1 ahead in extra-time when the superstar names around him were faltering.
Bale hasn't played a lot of his club football in this part of the world, but on Tuesday when Real Madrid take on Sevilla in the Super Cup it will be a chance for his nation, city and community to hail their favourite son.
"We are very proud of him and he knows how proud we are as well," says his former PE teacher Gwyn Morris.
"He's got a very strong connection to where he comes from. He had dedication, commitment and a tremendous family background that was so supportive."
That final in Lisbon, combined with his jet-heeled display in the Copa del Rey final against Barcelona, marked Bale's €100 million transfer to Real Madrid as an unqualified success. "It's not often I jump on my knees in front of the telly at quarter to 11 at night," says Morris of the game against Atletico Madrid. "It was a fantastic moment for everybody in Wales to see our talisman finishing that goal in such a prestigious game."
The softly-spoken Bale took his place in the line-up alongside World Cup winners and Cristiano Ronaldo and let his football do the talking. Just like his days at Whitchurch High School.
"He played for the first XI in the local cup final in the last game he played for us," says Morris. "The boys came off and said 'that is something special there'. There was quality every time he touched the ball."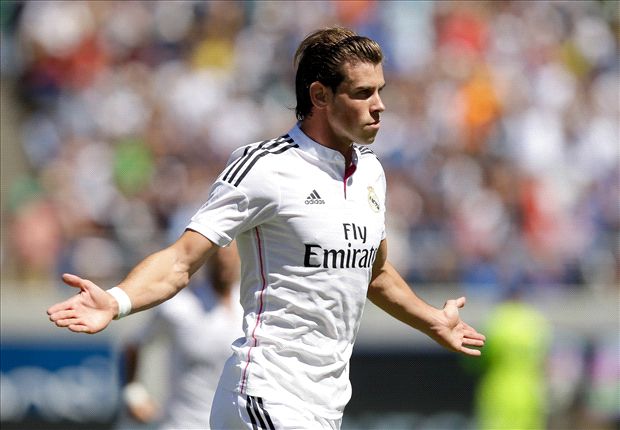 Bale in the USA | Real Madrid's number eleven celebrates scoring against Inter Milan in pre-season


This is not Bale's first homecoming of the summer. In late June he was on hand to open a new local primary school. A day earlier he had paid a discreet visit to Whitchurch High School.
"He came to see us and presented the school with his Real Madrid shirt," says Morris. "That was a really nice touch. He phoned us up and said do you mind him coming in to say hello. He popped in to have a chat with us for an hour or so. It was a very nice gesture from a lovely young man. That hopefully will inspire the next generation."
The school boasts perhaps the most renowned PE department in Britain and department head Morris has watched Bale develop from spindly, shy teenager to one of the best players in the world.
"I met Gareth when he was 13," says Morris. "He wasn't a very big man in physical stature in school but he had this vision that he wanted to play at the highest level."
Bale's work ethic has brought him this far in football and traces of his all-round sporting excellence remain.
"He loved playing all sports - cross country, hockey, athletics, rugby, all the way through school," says Morris. "The transfer of skills from different sports helped.
"He was a great cross country runner, a really good 1,500 metre runner, all the way down to the sprints. We can see that in the way he plays now. In the final seconds of a 90 minute game he has the pace that can absolutely petrify defenders."
"The way he plays now is very similar to how he played in school. He loves to take people on, he has that electric pace that causes defences all kinds of problems."
One story doing the rounds alleges that Bale was so good in school that Morris made him use only his right foot so as to give others a chance. But Morris explains that that exercise was also designed to take the prospect out of his own comfort zone and develop his weak points. It is part of a sound ethos at Whitchurch which helped nurture 12 international sports people from Bale's year alone including Sam Warburton, captain of the British Lions rugby team. "They all pushed each other," says Morris.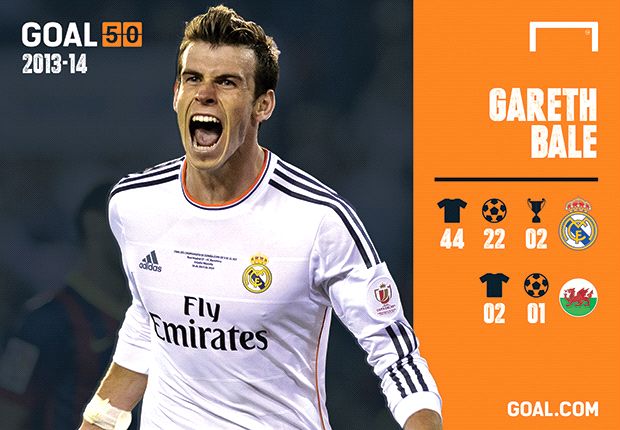 Bale has claimed he sized up the Champions League title as soon as he learned the Super Cup would be played in Cardiff and it is appropriate that he is the star attraction. The only downside is that at Cardiff City's new stadium, with its limited capacity, plenty of local youths will be locked out.
"It's not been that easy to get tickets," says Morris. "If it was in the Millennium Stadium they would have filled it. It would have been lovely for more kids to be able to come and see him play."
This event sees Bale among his people again as direct consequence of his interventions in the Champions League final. It won't be the last, Morris reckons.
"We told him win it again. Top sportsmen keep doing it. That's the truth. He is achieving at the highest level because he was sacrificing when other people were not."
Those who know him best are not altogether surprised by his ascent. Bale, with the Champions League to his credit, now walks into Cardiff a bonafide modern great but success has not altered him.
"He had the exact same personality that he has now - very humble, very quiet, just got on with things," says Morris. "He worked hard in everything.
"If we made a big fanfare for Gareth he probably wouldn't come again. It's very quiet when Gareth comes in. He just pops in, says hello and leaves quietly. That's the way he likes it."