SPORTS PSYCHOLOGY
By Jide Ayegbusi

The truth they say could be stranger than fiction; it is unequivocally non-fiction that Arsenal FC, whose name is now synonymous with "trophy-less" after almost a decade without a trophy, is still a trusty club. Though the team kick-started the EPL campaign on a shadowy note, having been trounced by Aston Villa, yet the defeat was little compared to several spankings received in the previous seasons during which they still clinched the top four. In other words, it might still be early to cry foul.
The question that has bothered my mind over these trying times for Arsenal is: why has the team that has often sold the goose that lays its golden egg not missed out of the Champions League over the last decade?
Well, I have tried to identify three psychological factors that in my opinion have helped the dauntless north Londoners to maintain top four against all odds. They are: Confidence, Team Spirit and Inspirational Coach.
Undoubtedly, confidence, incredible high-self believe has been demonstrated by the relatively young Arsenal team over the last decade. They hardly allow worries, uncertainties, fears, doubts and anxieties to weigh them down. Ample examples abound in many games where Arsenal forced their goliaths to kiss the dust.
In 2010/11 Champions League, Arsenal at the Emirates Stadium defeated almighty Barcelona 2–1. Even though the Gunners were eliminated on a 5-3 aggregate, very few believed Arsenal could show such a high level of buoyancy. The following season, Arsenal also gave a valiant performance in the second leg at home against AC Milan, winning 3–0 on that emotion-sullen night. (Arsenal were eliminated on 4-3 aggregate).
Earlier this year, in the 2012-13 season, Arsenal won 2 - 0 at home against Bayern Munich. Unfortunately, they exited on away goals rule having earlier in the first leg lost 3 - 1. This was a notable victory, in that it was only the third defeat of the season inflicted on the German side, who contentedly won their domestic league. Recall that Bayern later comfortably whitewashed Barcelona 7 - 0 in the semi-final of the competition.
Interestingly, the Gunners have also, often astounded me in the ways they have severally withstood and recovered from setbacks - defeats or poor performances. Who thought the team could come from a 3-1 defeat against Aston Villa to trounce Turkish giants Fernerbahce?
Notable also is the fact that the team has also in recent times accepted themselves for the way they are whilst understanding their strengths and weaknesses.
Another psychological factor that has kept the Gunners going during these exigent times is team spirit. The team spirit in the Arsenal squad is simply incredible. They play together as one like no other club in England. The team spirit has helped them to remain consistent and won high profile matches in times past. This same spirit is also responsible for the team's entertaining mode of play that has won myriad of admirers and kept many indulgent fans.
This spirit coupled with confidence was absolutely responsible for their recent brilliant performance against the struggling Fernerbahce.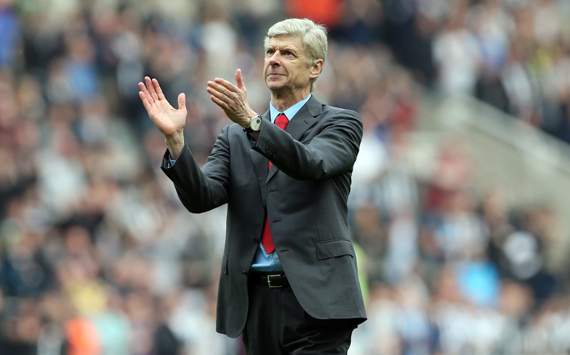 Arsene Wenger has inspired many star players
Besides confidence and unparalleled team spirit, the team has also been blessed with an incredibly inspirational coach. Arsene Wenger no doubt remains one of the most outstanding coaches Arsenal has ever had. The graduate of economics, who speaks French, German, English, Italian, Spanish and Japanese, has played a central role in transforming Arsenal FC into a formidable team ever since he took over from Rioch in 1996.
The former AS Monaco manager believes so much in his young lads that he has refused to buy older players even when the fans and football pundits thought it was necessary to strengthen the team. The inspirational coach once said: "I believe one of the best things about managing people is that we can influence lives in a positive way. That's basically what a manager is about. When I can do that, I am very happy. That's not the only part of my job, because the essential part is to win on a Saturday afternoon, but it is an important part. In a world where we only care about stars, it is important to say to players, 'You are not a star yet, but you can become one and I will give you a chance. At Arsenal, we are proud to do that, and we have fought against the policy of only buying stars. You have to understand that a player who is a star was, at one stage, an unknown person who had talent. We want to be the club who gives this guy a chance."
Wenger has groomed so many 'no names' and turned them into stars. Thierry Henry, his former protégé at Monaco, was transformed from a winger into a striker and subsequently became Arsenal's all-time top goal scorer. When the then Arsenal captain Tony Adams was receiving overwhelming criticism over alcoholism in 1996, Wenger stood by him. Robin van Persie, labelled a "troublesome" footballer before he moved to Arsenal, matured under Wenger, the player's staunchest backer. Dennis Bergkamp, who became a peripheral player in his final years at Arsenal, once praised Wenger for getting the best out of him. Patrick Vieira, Cesc Fabregas, Alex Song, Samir Nasri were all unknown names before they were inspired by the fatherly coach, Arsene Wenger.
This quality of his undoubtedly has great impact on players. The players are very loyal, disciplined, committed and motivated to give the coach most times deserving results notwithstanding many other disappointing outings.
While confidence, team spirit and having an inspirational manager have tremendously contributed to the north Londoners' top-four consistency, the question that has bothered many fans is: for how long will Wenger continue to parade greenhorns against the more experienced ones?
Recently, a group of irate fans wrote the club management complaining that they are no longer comfortable with a top-four finish.
"A competitive team isn't one which scrapes the position of fourth-best team in the league on the final day of the season and gets dumped out of domestic cup competitions by lower-league opposition; you need to realise that most fans are aware of this fact. They're not duped by finishing in a position which may result in us playing in the Champions League. So what, if the cash from that competition is simply banked and never sees the light of day?" wrote the disgruntled group.
Without much ado, the fans should expect the club management to say: "Our coach is a business magnate, we're smiling to the bank, and we're always in the top four, so if the riled fans continue to catcall our economist, who cares?"
- Jide Ayegbusi is a Psychologist. He can be reached via phone and Email: +2348036566809 (sms only), informjiday@yahoo.com

Follow Ayegbusi on