ANALYSIS
By Babajide Alaka | Deputy Editor
Since 1985 when Nigeria won the Fifa organised Kodak U-16 Championship held in China, the spectre of age falsification has tarnished every age grade football competition won by the country and indeed by African teams.
The recent statement by Zarko Zecevic concerning former Super Eagles defender, Taribo West is just one in a long line of accusations. Zecevic, former Partizan president said: "He joined us saying he was 28. We only later found out he was 40, but he was still playing well so I don't regret having him on the team," Zecevic told the Daily Mail.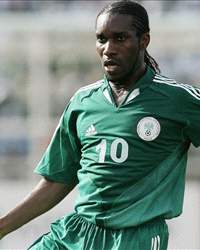 "African players feel the need to cheat because they didn't have early opportunities like the Europeans." - Okocha

Though the cases of Samson Siasia and Andrew Uwe led to Nigeria being banned for two years – no other case has been proven. There have been insinuations from people like Harry Redknapp, who postulated that Nigerian football icon Nwankwo Kanu did not play with his real age like there are so many others.
Obafemi Martins has variously been quizzed about his real age and Emmanuel Emenike sought and got a public apology from a newspaper which said he had falsified his age.
But the question we need to be asking ourselves is – if there is nothing to be gained from the exercise, then it would automatically stop. Unfortunately there are too many things to be gained – even though the gains are short term but Mr. Poverty will continue to dictate that cheating will never go away. James Baldwin famously said: "Everyone who has ever struggled with poverty knows how extremely expensive it is to be poor."
The belief and the truism that football is an escape route from abject poverty continues to ring true in our society with players doing everything and anything to get a contract overseas where the economies are invariably better. The crime, and indeed it is a crime, is not limited to football as there are also claims especially in the civil service and other industries that age falsification has been part of our culture for a very long time.
Former youth international and later African player of the year Victor Ikpeba, was once asked on television if he had reduced his age? Not denying it, his answer was: "I was very young and you can see that I had a long career." His response left the listener without a conclusion. Though we know that there are no half-truths – it is either true or false.
And like former Nigeria captain Austin Okocha said recently, the phenomenon will continue because African kids start later than their European counterparts. "African players feel the need to cheat because they didn't have early opportunities like the Europeans," Okocha said.
Though he added that: "Age usually catches up with people in the course of their career," but it is still a 'valid' way out of penury, poverty and a gateway into a better way of life for the footballer and his/her extended family.
The aim of under-age tournaments is to showcase young talented footballers to the world and give them a track to follow. Many players that are now the crème-de-la-crème of world football at one time or the other represented their country in U-17 and U-20 levels. The best example is current World Footballer of the year, Lionel Messi, who shone at the Fifa U-20 World Cup in 2005. He has gone from that tournament to become the best player in the world and has won that diadem four times consecutively. Another recent example is Toni Kroos, who was the best player at the 2007 U-17 World Cup and is now a mainstay of Bayern Munich and the German national team.
Though we can also point to Mikel Obi, who played for Nigeria at the U-17 and U-20 levels and led Nigeria to Africa Cup of Nations glory last February, but Nigerian players who shone at those levels and went on to dominate on the senior level can be counted on the fingers of two hands – they are in the minority.
Philip Osondu readily comes to mind. So much was expected from the best player of the U-17 tournament in Canada in 1987, by a mile, but he never even played for the Super Eagles in a career that petered out like the flame of a match stick.
Lately, we have been asking of the whereabouts of Macaulay Chrisantus who was the highest goal scorer at the Fifa U-17 World Cup in 2007. He is currently playing for Spanish second division side, Las Palmas, where he is not even a regular.
So where does that leave the Nigerian football scene as cheating in itself cannot be completely eradicated? There is the saying that when the proper use of an object is not well stated then it can be abused. Our coaches must realise that winning age-grade tournaments is not the end in itself – it is the discovery of raw talents that will benefit the national teams in future - that is the real aim. Nigeria has won the Fifa U-17 tournament thrice, won two silver medals at the U-20 level and won gold at U-23 level at the Olympics but ironically has never reached the quarter final stage of the World Cup. That is enough food for thought.
Where are all the talents that were discovered? What happened to their careers? And it will be succinct to go back to what Okocha said, "Age usually catches up with people in the course of their career". Can't we then deduce that age is finally catching up to the 'young' talents that were discovered? If we can see the need to be true to ourselves and the next generation – then age cheating will become a thing of the past. But if we continuously cannot see beyond our noses – claiming to discover 'Little Messis' when indeed they are old grandpas – then the tar of age cheating will continue to dog our football leaving us without real progress.
Follow Babajide Alaka on