COMMENT
By Fernando Duarte
Until a couple of weeks ago, the only people to recognise Dante's hefty frame walking around his hometown of Salvador during the Bundesliga's winter break would be some German tourists. On Wednesday, though, as he prepares to make his debut at the heart of the
Selecao
defence against England, that will all change.
After leaving his homeland as a virtual unknown almost 10 years ago, Dante has had a long road to the top, but after becoming one of Bayern Munich's signings for the 2012-13 season, he is likely to get his maiden cap alongside fellow floppy-haired defender David Luiz.
The biggest surprise, though, is not that he is in contention for a place in the Brazil squad for the 2014 World Cup, but that it took so long for him to be noticed. Long before becoming an integral part of the Bayern defence which has conceded just seven league goals in 20 games, he had done enough to be selected.
During his three seasons at Borussia Monchengladbach, he was a star performer in the team who went from relegation candidates to Champions Leauge qualifiers in 2011-12.
While one could point out that former Brazil coach Mano Menezes never suffered from a shortage of good stoppers, he seemed oblivious to the rise of Dante. But when Luiz Felipe Scolari announced his first squad for his second spell in charge of the country, he could not ignore him any longer.
"Dante has been outstanding for Bayern, and we would like to get a closer look at him,"
Felipao
stated two weeks ago.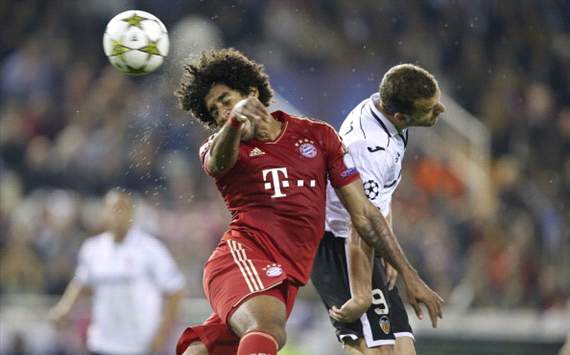 Rising high | Dante has established himself as Bayern's leading defender
For the 29-year-old's part, the coach's praise vindicated his belief that he could represent his country with a little hard work.
"I knew that if I did my homework at Bayern, a chance would come up," Dante exclusively told
Goal.com
. "I am obviously over the moon to be called up, but the hardest part, which is making the next squads, starts now.
"It doesn't bother me that people in Brazil don't really know who I am. It's actually more important that the coach knows what I can do."
Dante certainly has quite a task on his hands. Aside from David Luiz and Dante, the defenders called up are Atletico Madrid's Miranda and Roma's Leandro Castan. Paris Saint-Germain star and captain Thiago Silva has not made the squad due to a thigh injury.
Short of a disaster, though, Dante is likely to find a place for himself among Scolari's troops. With his penchant for passing and apparent hatred for hoofing it up-field, Dante has been compared to the great Aldair, who shone during Brazil's 1994 World Cup winning campaign.
"A lot of people thought I would just disappear from the squad. I guess proving them wrong became part of my to-do list"





- Dante

Besides, Dante is also thriving in a league where defenders have to excel physically. "I have been in Europe for almost 10 years, and I believe my experience can help the group," he noted. "The important thing for me now is to soak up the atmosphere, get to know the other players a bit more, and work as hard as I can on the pitch.
"It's your sweat, rather than your name, that can get you a place in this team."
That view is born from his rise at Bayern. After making his €5 million switch, it was assumed that Dante would dissolve into obscurity behind the more established names of Holger Badstuber, Daniel Van Buyten and Jerome Boateng.
"A lot of people said I would just disappear into the squad, that I was too low in the pecking order," he continued. "I guess that proving them wrong became part of my to-do-list. But the players were always very nice to me from the beginning. I have no complaints about the reception I got."
He and Luiz already look like kindred spirits with their instantly-recognisable hair cuts, but Dante was quick to claim ownership of the afro. "I have worn my hair like that for longer than David," he joked. "I remember he was short-haired when he arrived at Benfica."
Before moving to Germany, he spent time at Lille in France and Belgium, and given his form, he could attract interest from England when he faces the Three Lions, or when Bayern clash with Arsenal in the Champions League, and he is looking forward to his excursion on British soil.
"I really admire English football and it will be quite exciting to have the chance to soak up the atmosphere at Wembley with Brazil and then come back to London for the Champions League tie. It doesn't get much better than that, and I'd prefer to experience it before worrying about the future."
He is aware that his status as a
Selecao
player would ruin the anonymity he has enjoyed in Salvador, though: "Not even my haircut used to catch attention. But it might be a bit trickier to walk around now. I am almost regretting it!"