Michael Yokhin


Ukraine Expert

Follow on
Andriy
Shevchenko
rolled back the years on Monday after his second half double gave co-hosts
Ukraine
a dream start to Euro 2012 with their 2-1 win over Sweden in Kiev.
The 35-year-old, who lifted the Ballon d'Or in 2004, has enjoyed an illustrious career since making his debut for Dynamo Kiev back in 1994.
Goal.com
takes a look back at some of his greatest moments.
1. The glorious hat-trick at Camp Nou

It was the first time all Europe sat up and took notice of the great Shevchenko talent.
Granted, it wasn't the greatest Barcelona – quite the contrary. It took Louis van Gaal time to rebuild the team in his first season in 1997/98, and they finished bottom of the group in the Champions League.
Still, bagging a first half hat-trick at the famous stadium was an amazing moment for the 21-year-old striker. The first two were headers, just like on Monday – only both mostly due to terrible errors by Vitor Baia, whose Barca career was unsurprisingly finished there and then.
The third was a penalty, en route to a classic 4-0 win. Dinamo Kiev were stopped by Juventus in the quarter-finals that season, but next year went one better, qualifying for the semis, with Sheva scoring 10 times in Europe in his farewell home campaign.
This one wasn't a great effort, not by a long shot, but it entered the history books immediately and became an all-time classic.
On cold October night in Moscow in 1999, Russia hosted Ukraine in a crucial last game of Euro 2000 qualifiers. Both needed to win to top the group and qualify directly for the tournament. The Russians pressed for most of the game, looking for seventh successive win, and were rewarded when Valery Karpin scored a screamer.
Three minutes from time, Sheva took a rather tame free kick from the left. Hapless keeper Aleksandr Filimonov dropped it into the net, and 1-1 draw sent Oleg Romantsev's team crashing out, with France qualifying instead.
Ukraine finished second thanks to that slice of luck, but sadly for Shevchenko they lost to Slovenia in the playoffs, and needed to wait 12 long years for their maiden appearance in the European Championship finals.
3. That goal against Juve

Defeat by Germany provided clear evidence that Cristiano Ronaldo will be a marked man at Euro 2012.
After moving to AC Milan in 1999, Sheva instantly became one of the most feared strikers in Serie A, scoring 24 goals in his debut season, and repeating the feat in 2000/01.

The most beautiful strike, arguably Shevchenko's best, came in December 2001, when he single-handedly
made fun of Edgar Davids, Ciro Ferrara, Paolo Montero and Gianluca Pessotto, before sending
an amazing shot into the far top corner above Gigi Buffon.

That was a perfect present for the first Carlo Ancelotti's game on Milan bench after being sacked by Juve. The match ended in a 1-1 draw, though, and the whole season was rather disappointing for Rossoneri.


4. Beating Inter in the Champions League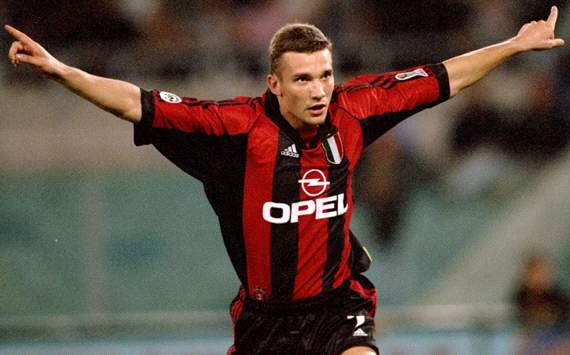 Shevchenko is the all-time top scorer in Derby della Madonnina, with 14 goals (not to mention the 15th scored against Inter in Dinamo Kiev shirt).

One of them was particularly crucial, as the Ukrainian was responsible for a glorious "away" goal versus the city rivals in the 2003 Champions League semi- final. Getting the ball in the penalty area, Sheva passed Ivan Cordoba with his first touch, and put the ball past Francesco Toldo with his second.

Obafemi Martins scored the equaliser, but it didn't matter – Milan were in the final.


5. The decisive penalty at Old Trafford

That 2003 final was quite a drab affair, but it didn't really matter to Sheva, as he was the hero despite a rather mediocre performance against Juventus.

With more penalties missed than scored in the shoot-out, the pressure was immense ahead of the last kick, and the Ukrainian kept his cool to slot the ball past Buffon. After lifting the trophy, he took it to Valery Lobanovsky's grave to tell his beloved mentor, who died a year before, about the great achievement.



That was quite a year for Sheva! In his very top form, he finally led Milan to their only Scudetto during his seven seasons at San Siro, including scoring with a header of outrageous quality in the title decider against Roma in the beginning of May.

For the third time in his career, Shevchenko finished Serie A season with 24 goals. His outstanding play was rewarded with Ballon d'Or, even though he didn't play at Euro 2004.

After Oleg Blokhin in 1975 and Igor Belanov in 1986, Sheva is the third Ukrainian to be voted Europe's top footballer, and the only one since the Soviet Union ceased to exist.


7. The magical night in Kiev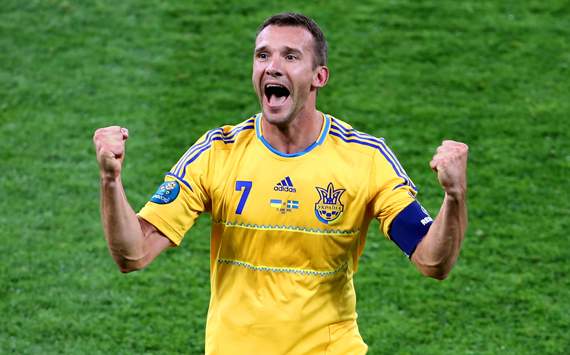 He waited for this moment for five long years. He wasn't supposed to start. He squandered the only chance in a rather poor first half. He was screaming with pain after being hit hard on his knee. At times he looked frustrated.

But in the end it was the night of glory for Shevchenko, as he placed two amazingly beautiful headers to bring Ukraine their first European Championship win in their first ever game in the tournament. Blokhin said he had a dream of Shevchenko scoring a brace in the game, while Andriy himself didn't believe it was possible.

That dream came true.