Australia
Bert van Marwijk got it 'massively wrong' not using Tim Cahill, says Robbie Slater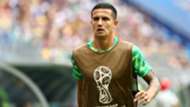 The decision not to bring on Socceroos all-time leading goal scorer Tim Cahill against Denmark has divided Australian fans with Robbie Slater adamant Bert van Marwijk made a mistake not utilising him.
Cahill played just 63 minutes of club football for Millwall this year and at 38 is about to draw the curtain on a distinguished career.
With the scores locked at 1-1 against Denmark, many felt the moment was primed for Cahill but van Marwijk instead brought on Tomi Juric for an injured Andrew Nabbout late in the game.
Fans were left divided on social media about the decision, but Slater is certain Cahill had to be brought on. 
"If I had hair, I'd pull it out...what's happened to Tim Cahill?" Slater told Big Sports Breakfast.
"I knows he's been on the bench the whole time at Millwall, but you're talking about a different animal here in Cahill. When he pulls on that green and gold he does extraordinary things.
"He was 37 and three quarters when he scored two against Syria. 38 is extraordinary but he's gone this far.
"This time we had Denmark and we didn't go for the jugular. That game was there for the taking." 
Slater was particularly critical of van Marwijk's failure to bring on Cahill suggesting the Dutch coach wasn't willing to roll the dice during what will be a short tenure with the Socceroos.
"He got it wrong, he got it massively wrong," Slater said.
"How you can you not use Cahill at 1-1 when you've got him?
"This is what happens when you have a coach that can't or won't be held to account because he's 90 minutes away from the end of an era."
As a result of the draw, Australia now need to beat Peru and hope France defeat Denmark to keep their hopes of progressing to the knockout stages alive.