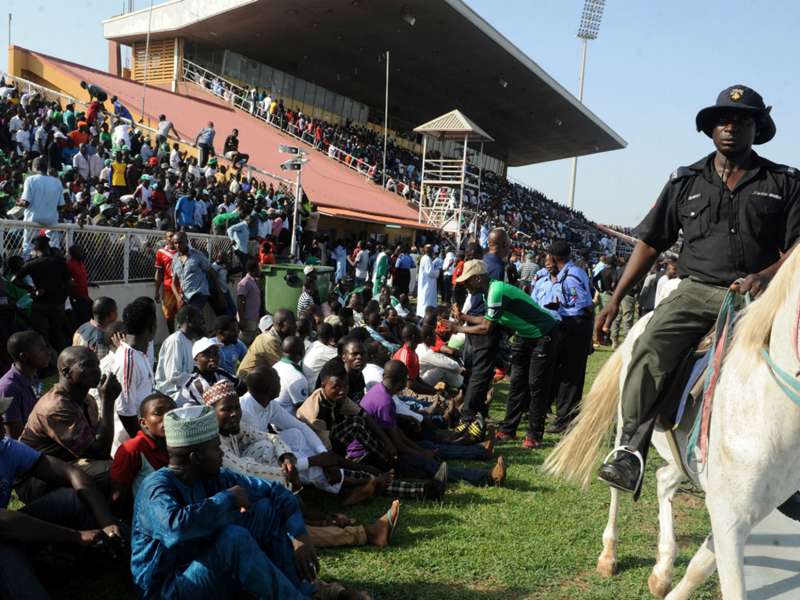 The Ahmadu Bello Stadium in Kaduna is listed as a 16,000 capacity venue, but it was stretched on Friday far beyond imagination after the gates were thrown open to fans for Nigeria's Africa Cup of Nations qualifier with Egypt.
According to Fifa rules, "The maximum number of spectators admitted into the stadium shall not exceed the stadium's agreed maximum safe capacity," but Friday's crowd was double and almost triple the stadium's capacity.
The football mad city trooped out in thousands and at a point, there were between 40,000 and 50,000 people cramped into the tiny edifice creating fear of a stampede as security officials battled to keep the crowd in check.
The Kaduna State government announced before the game that it had bought out tickets for the arena asking fans to freely come to cheer the Super Eagles to victory. There was an endless flow of them.
Hours to the game on Friday, the arena was besieged by thousands of fans who were keen to see the national team. As they cramped into the arena, tumbling over security barriers and breaking all known safety protocols, it smirked of a disaster waiting to happen.
Fans scaled the fence to enter the stadium and many that had bought tickets fought tooth and nail to get in under the whips of soldiers and policemen.
The Kaduna Govt 'bought' all tickets and made the game free for all, this has led to an unmanageable crowd #NGAEGY pic.twitter.com/fMJuUBluzE

— Lolade Adewuyi (@Jololade) March 25, 2016
A few officials and journalists turned back from entering the stadium for fear that a stampede could result in deadly events.
Was it a good decision to open the gates to all and sundry?
It was definitely a decision that was not well thought out as many lives were left in danger.
Disgraceful scenes of over crowded stadium in #Kaduna where #Nigeria is facing #Egypt in #afcon2017 qualifiers pic.twitter.com/5i09MUy7Zp

— Sulaiman Folarin (@sulaiman4real) March 25, 2016
Security men turned a blind eye to the number of fans because they could no longer control the press and resorted to whipping people to get in line.
Television shots showed fans standing on the stadium's public display as well as on floodlight poles in order to get a glimpse of the game.
"I felt the game was not going to take place because I thought the number of people on the pitch side was going to cause encroachment," said Rotimi Akindele, reporter for Beat FM.
Last year, the Nigeria Football Federation was fined $5000 by Caf for fans' encroachment during the game against Chad in the same stadium. It seemed it had not learnt anything from that decision when it brought this game to Kaduna and agreed for a free for all.
They refused to use the main gate. Kaduna fans are amazing! pic.twitter.com/FaEptoxGbL

— Austin Okon-Akpan (@ProudlyAustin) March 25, 2016
Crowd control was non-existent and Nigeria was in danger of having a huge stampede on their hands, something that visitors Egypt have experienced in recent times.
Y would authorities allow 40k into a 25k capacity Kaduna stadium. When a stampede occurs & lives lost, we'll cry as a nation & move on.

— Mr. Aye Dee (@MrAyeDee) March 25, 2016
There was a huge sigh of relief as the game ended without much incident but lessons must be taken away from this. While some people think that it was a good turn out, we were a hair's breath from a stampede.
There's a reason why gate fees are standard practice all over the civilized world. It is not enough to leave gates open in order to earn political points. Lives are more precious than that.
Thank God we had an incident free Good Friday.