Premier League
Zurich react to Dwamena's failed Brighton and Hove Albion medical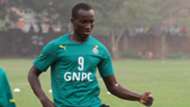 Swiss side FC Zurich say they are surprised by Brighton and Hove Albion's decision to call off Raphael Dwamena's proposed move to the English Premier League.
Having reached an agreement with the Super League outfit for the transfer of the 21-year-old, the Seagulls, on Friday, announced their rescission of the deal due to the striker failing his medical.
"The transfer of Raphael Dwamena to Brighton & Hove Albion has not been completed. Due to the medical check, the English club has withdrawn its offer," a Zurich statement read.
"We are very surprised at this decision. Naturally, we also had a medical examination carried out by the Schulthess Clinic before the transfer of Raphael to FC Zurich. There the same deviation from the standard was determined.
"However, this fact has been judged as being neither harmful to health nor compromising the performance of a top sportsman. The fact that deviations occurs in such medical tests in the field of top sport is not uncommon.
"However, they are analyzed individually and checked for their medical consequences. Whether a change in the medical situation has actually occurred in the last eight months is now being examined.
"Despite this unforeseen development, we are looking forward to the return of Raphael Dwamena and are convinced that he will again be fully committed to FC Zurich."
Zurich acquired Dwamena from Austria Lustenau in January, and have seen the Ghanaian strike 14 times in 23 league appearances so far.
Two of those goals have come in five matches this season.