Mario Götze
World Cup hero to washed out: Mario Gotze's career at risk of completely falling apart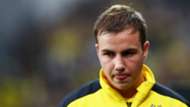 ---
OPINION
---
When Joachim Low sent on Mario Gotze in the 88th minute of the 2014 World Cup final against Argentina, the Germany manager urged the attacker to "show you're better than Lionel Messi."
The then-Bayern Munich star was coming off the back of a successful first season since moving from Borussia Dortmund, and resigned Messi to the final's footnotes when he struck the winner in extra-time.
After the game, when Low revealed his motivational talk, he further praised Gotze's impact, calling him "a miracle boy, a boy wonder.
''He can play any position, he has superior technical qualities and is always able to decide a match."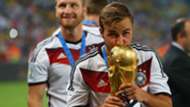 Less than three years on, the player affectionately known as Super Mario is on the verge of anonymity, with his career spiralling downwards ever since that World Cup-winning goal.
Despite the success of the initial season, Gotze's career faltered at Munich, seeing him return to Borussia Dortmund, where his stock has continued to fall.
This season, the 24-year-old has posted career worst stats for minutes per goal, chances created, and winning percentage, while his passing success has dropped below 85 per cent for the first time since leaving Dortmund in 2013.
Just this week, his club announced that he was stepping away from first team duties due to a 'metabolic disorder', having missed weeks and months over the past few seasons with various muscle injuries and other problems.
Pogba attacked by angry Man Utd fans
Former Dortmund boss Jurgen Klopp highlighted Gotze's injury proneness for his lack of development, believing he still has the talent to become a superstar.
"Mario has often gotten injured at unfortunate moments and has not really gotten into a rhythm yet," Klopp told Bild am Sonntag.
"But there is still a world-class footballer inside Mario, just like before. You do not just forget how to play football, it's like cycling.
"Mario's next challenge will be to find consistency. I have no doubts about it that he will bounce back. He has no reason to worry."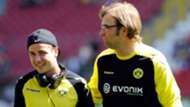 While Klopp thinks Gotze is just an unlucky player whose career has been hampered by injuries, there are others who feel that the 62-time Germany international has not reached his potential.
Gotze's namesake, Mario Balotelli, also has the same Super Mario nickname and has seen his prodigious talent amount to nothing.
If the German cannot turn things around, he could end up like Balotelli, just with a better trophy cabinet.
Michael Ballack is one pundit who has not been impressed by Gotze. The former Germany and Bayern midfielder can see his potential, but is annoyed that he never got to that level.
"When I see Mario Gotze, his development does not go in the right direction," Ballack told Sport Bild.
"He has outstanding qualities, but he has not reached his potential for whatever reason.
"His charisma is not so good, fellow players, coaches, fans and the media do not feel that he is fighting against his current situation. He's more an introvert player."
WATCH: Oscar nets stunning team goal
Low's Germany are set to face England on March 22, but Gotze will not be named in the squad due to his current absence. When he scored the winner in the World Cup final three years ago, nobody would have believed the way his career would turn out.
But at just 24 years of age, Gotze still has time to turn things around. A lot of people still believe in him. He has been backed by team-mates, coaches, even players who never worked with him.
"Götze is the best German footballer," Luis Figo told Bild. "He has such an incredible talent and can do everything with the ball."
Unless he can get the help he needs to turn things around, Gotze will be little more than a faded footballer who never lived up to his talent.