Tottenham Hotspur
Winks pings the ball around like Scholes - Anderton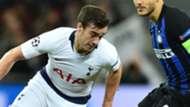 Tottenham midfielder Harry Winks boasts playmaking qualities which make him similar to Manchester United legend Paul Scholes, says Darren Anderton.
At 22 years of age, a product of Spurs' academy system is endeavouring to make his way back to the top of the Premier League pile.
Having broken through in 2016-17 to force his way into the England squad, injury issues proved problematic last season.
A welcome return to form and fitness is being enjoyed this term, with Winks once again showcasing the qualities which should see him follow in illustrious footsteps and become a key man for club and country.
"I think he's the real deal, absolutely different class," former Spurs star Anderton told Love Sport Radio of an exciting prospect.
"I love the way he plays. I think if you watch the way he passes the ball, it's never sloppy. It's always fizzed in at pace, almost the way I used to watch the United boys ping the ball about, like [Paul] Scholes.
"He always wants the ball and he's 'one of our own' which I love.
"I used to room with Dean Austin when I was playing who was from Hemel and he knew Harry since he was a young kid and he's always mentioned him to me that he's different class.
"So he's come into the team, and to break into a good team which is not easy, and he keeps doing the right things.
"He had a tough break with injury last year and missed out on the World Cup but he's got such a good manner about him.
"I love the way he plays the game. I would say he almost goes unnoticed, that real quality. Whether it's Huddersfield or at home to Barcelona, you'll get the same performance."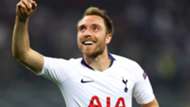 Spurs currently have Winks thriving as part of a midfield department that includes Denmark international Christian Eriksen.
He is the man charged with the task of providing creativity for Mauricio Pochettino's side, and his efforts have drawn admiring glances from the likes of Barcelona and Real Madrid.
Anderton is hoping to see that interest fended off, but admits an inability to agree fresh terms with a key man is offering cause for concern.
He added: "People will keep talking about it. People will keep asking the question if he doesn't sign a new deal. Why is that? Is he not committed? Does he want to move on? Is he looking for a fresh challenge?
"For me, I would love to see him sign in terms of his importance to Spurs. He's the one who has got that little bit extra in the final third.
"When teams come to Wembley and they sit there with 10 men behind the ball, it's his quality in that final third that can really make things happen out of nothing.
"I've said it for a few years now that he is, if not the key player, one of the most important players in that team."