Premier League
Willian: Costa and Conte relationship is fine… he'd fight his mother on the pitch!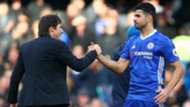 Chelsea star Willian has insisted there is no bad blood between Diego Costa and Antonio Conte at Stamford Bridge, while admitting his team-mate took competitiveness to an extreme. 
The peace in west London was shaken over January by reports of a training ground bust-up between the Spain international and his manager, amid rumours of an astronomic offer to play in China. 
But Willian affirms that, while neither of the pair are angels, they enjoy a healthy professional relationship at the Premier League leaders. 
Madrid chief breaks De Gea silence
"The relationship between Costa and Conte? It's good, good," the forward said to Globoesporte.
"Their temperaments are both a bit difficult, but they are great guys."
The Brazilian did confirm, however, that Costa is aware of his bad boy reputation, and that he would even go in hard on his own mother if a game was at stake!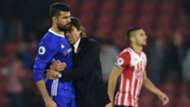 "For those who don't know him Diego Costa comes across as a tough guy, who wants to fight, but that is only on the field," he pointed out.
"He always tells us: 'On the pitch I am like that, I cannot change. If I had to play against my mother I'd be the same!'
"So, he's a guy who wants to win, wants to fight, he fights for every ball, he wants to score goals — and I think that's great. Off the field, he's a guy who is always joking around and talking to us. There is no problem between the two."
Costa has been in stunning form since linking up with Conte, scoring 15 goals in 22 Premier League appearances as the Blues have opened up a nine-point lead at the summit.