MLS
Will Bruin returns to Houston having recharged his career in Seattle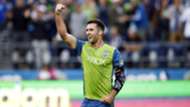 Will Bruin needed a change. After more than five seasons in Houston with the Dynamo, the veteran striker felt the desire for a new challenge. The 2016 was the worst of his career, and as game after game went by with the minutes drying up and the goals fading away, Bruin knew that when it was over he would ask out.
"I just had this feeling in my gut that time had run its course on phase one of my career," Bruin told Goal. "I'd spent six years in Houston and I needed to challenge myself and get that fire and passion in my belly back."
One year after he left the only pro team he had ever played for, Bruin is back in Houston, his career recharged and his new team set to take on his old one with a spot in the
MLS
Cup final on the line.
When the Sounders face the Dynamo on Tuesday in the first leg of their Western Conference finals series, it could mark Bruin's first start at BBVA Compass Stadium since the trade that sent him to Seattle last December. It was a trade Bruin acknowledges now he needed to reinvigorate what he felt had become a stagnating career.
"I would say that," Bruin said. "There was a lot of turnover with coaches and stuff, and it was hard to get a full grasp of things with coaches coming in and out. That maybe played a part too because every coach has different players that they like and you can go from playing for one coach to not playing for another coach."
The 2016 season saw Bruin reduced to a bench role, and he failed to score a goal in his final 18 matches for the Dynamo, but in Seattle he found a refreshing change with the league's defending champion.
Playing time was hardly guaranteed for Bruin, who was joining a Sounders attack featuring Clint Dempsey and Jordan Morris, but after spending much of the first half of the 2017 season mostly as a substitute, Bruin eventually worked his way into a regular starting role, as injuries created opportunities. Bruin capitalized, finding the net and finishing the regular season with 11 goals, second-most on the Sounders, including a game-winning finish against the Dynamo back in June.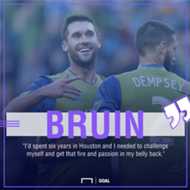 "Will has come here and, like a second chance for him to start fresh, he's really done well," Sounders coach Brian Schmetzer told reporters last week. "He's done everything we've asked. He had the elbow dislocation, and he's such a tough kid that he powered through that and was able to give us minutes even playing with that brace. He's got 11 goals, and that speaks volumes."
Bruin, who made a 10-minute appearance off the bench on Seattle's season-opening trip to Houston, believes he is back in Houston a better player than he was when he left, and credits his new teammates for helping sharpen up his game.
"I think I've gotten more comfortable on the ball," Bruin said. "When you see guys like Nico (Lodeiro) and Clint, the way they have the ball at their feet, it's natural, they're not worried about it. It's like riding a bike. I think sometimes throughout my career I looked awkward when I'm dribbling, I'd try to get rid of it as soon as possible. I think just having that composure with the ball at my feet and kind of being more patient and having that confidence in my abilities has been something that playing with those guys has helped me improve on."
While Bruin has improved in 2017, so have the Dynamo, who have thrived under first-year head coach Wilmer Cabrera. The Dynamo are a much different-looking team than the one Bruin left behind a year ago — a much better team than the one that left Bruin seeking a change of scenery.
"They have an identity now," Bruin said. "I think Wilmer has done a really good job of figuring out how the team's going to play, and they've stuck to their style all year. That's with pace in high, wide areas, and good and clinical finishers in the box. When I look at the Dynamo the last few years we didn't really have an identity. I think Matt and Wilmer have done a really good job this year of forming that for them."
To be clear, not all of Bruin's memories of his time in Houston were bad ones. He still remembers the experience of being a part of two Dynamo runs to the MLS Cup final in his first two seasons in the league, in 2011 and 2012. He was a far less experienced player then, and only after some disappointing seasons for the Dynamo did Bruin come to appreciate how special those years were, and how special playoff runs can be.
"I just remember thinking my first year 'Man, this is a long season' and now I'm in my seventh year and I don't want it to end," Bruin said. "Your mentality definitely changes as you get older so I definitely appreciate it a lot more now."