A-League
Why the A-League still needs finals football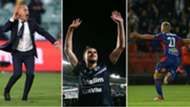 Some may call it flawed, outdated and an unnecessary Australian sporting by-product, but if this weekend is anything to go by - the A-League finals format still has something to offer. 
While the system itself should certainly be refined moving forward as more teams are introduced, the thrill of elimination football is vital in a sporting climate where the game is struggling to get a foothold.
The semi-finals over the past few days for example have seen a Newcastle Jets side move ever closer to a fairytale finish, a Riley McGree scorpion go viral, TV figures double and Sydney FC shocked in one of the more dramatic football matches you'll ever see. 
Though seeing a side dumped out of the finals after finishing the regular season 14 points clearly may irritate some, the fact is they were rewarded for that effort with a Premiers Plate and them not sealing the championship takes little away from that.
As Graham Arnold himself said post-match: "To dominate the competition the way we have the last two seasons, I still believe even with this result we're the greatest team the A-League has seen."
Simply because they lost an epic semi-final doesn't have to detract from what the Sky Blues achieved and the inevitable question mark it does place next to them should create some positive rather than negative debate around where they now sit in the history books.
As far as finals formats go, the A-League also arguably has one of the best and fairest in the country.
The fact second place has reached every grand final to date and that no side that's finished lower than second has won it demonstrates just how rewarding it is for those that finish higher up the ladder.
But shocks, as we saw last night, can happen. But rather than bemoan it, we should be embracing the unexpected and celebrating the craziness.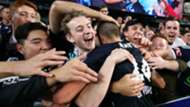 Speaking of crazy, McGree's improvised finish on Friday night has single-handedly put the A-League on the map and in an instant brought some much needed positivity to the competition.
With millions of view across social media and now a genuine contender for a Puskas, the A-League is getting some much needed attention.
Fluke or not, the goal was inevitably the product of finals football and as the 19,000 fans at McDonald Jones Stadium will testify to, it's a moment they'll never forget.
While finals may one day be a thing of the past for the A-League should a second division be introduced, as it stands the system brings some much needed life to a league in desperate need of a spark.