Manchester United
Why most Man Utd fans want Man City to win Premier League instead of Liverpool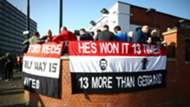 For so much of Sir Alex Ferguson's reign, the ultimate goal was clear. "My greatest challenge is not what's happening at the moment, my greatest challenge was knocking Liverpool right off their f***ing perch."
While Manchester United continued to be considered one of the world's biggest clubs during the 1970s and 1980s, Liverpool dominated England in terms of on-field success. By 1990, the Merseysiders had taken their tally of league titles to 18 and had pocketed four European triumphs to boot, and all United could do was stand and watch from the other end of the East Lancs Road.
Wind forward to 2019 and Liverpool are attempting to finally win a 19th league title 29 years and 13 United crowns on from their last. And, although they keep on winning of late, they need Manchester City to slip up somewhere with the small matter of a Manchester derby at Old Trafford looming on Wednesday night.
For United fans, this might be the worst-case scenario. They have no hope of a title themselves, and it is City and Liverpool who are battling for the crown. 'Noisy neighbours' City are gunning for back-to-back championships but the vast majority of reds would hate the prospect of Liverpool returning to the top table.
"It's mainly historic, due to the fact that throughout many people's lifetimes they've been the team that we've always competed against, whereas City are sort of new kids on the block in that sense," explains Anthony Shaw of the United We Stand fanzine. "And whilst that might change in the future, at the moment the majority of United fans I'd say would consider Liverpool to be our biggest rivals.
"It's drummed into you from a young age that Liverpool are United's biggest rivals. I never saw Liverpool's glory days but even during the 90s City were never a threat, it was only probably around 2009 or 2010 that they started becoming serious rivals. So, maybe youngsters might consider it to be City, but the majority still think of Liverpool as the major rivals."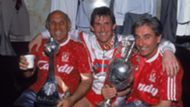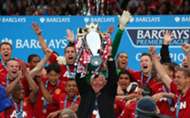 As the run-in has developed, scenarios relating to Liverpool success have been presented thick and fast, and the ill-feeling towards Liverpool has even taken Anthony back.
"I was quite surprised by the extent of it when all the questions cropped up recently about 'Would you rather beat Paris Saint-Germain or Liverpool and end up helping City win the league?'" he adds.
"I did a poll on it, asking which you would rather win of the FA Cup game against Chelsea, PSG at home or Liverpool at home. I said that a trophy was the important one for me so picked the FA Cup game because that was the best chance we had, but about 86 per cent said they'd rather beat Liverpool at home, which gives you a measure.
"Now there's all the questions of beating City to look after your own interests or do you want to lose to them and I've been quite shocked by the extent to which people would want to lose a Manchester derby.
"The way I see it, it's pretty inevitable that Liverpool will win one and they'd still be behind us in terms of league titles. I'm hoping they won't win the European Cup because that puts United even further behind [a sixth title to United's three].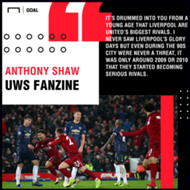 "But, whilst I'm a spokesperson for the whole support, personally I'd rather United look after their own interests before considering others because I'd rather United's improvement was accelerated by getting into the European Cup and being able to buy better targets available to them rather than worrying about a few Liverpool fans bragging on social media or the media fawning over them. But a lot of United fans are sick at the thought of them winning the league."
United boss Ole Gunnar Solskjaer admitted in his pre-match press conference on Tuesday that he's not too keen on either side winning it, even if he is focused on helping his side to compete once more.
"For me,, the motivation is towards something, to win something yourself," said Solskjaer. "It's not about taking something away from others. We have to want to overtake them, not because it's City and Liverpool.
"But of course, because it's City and Liverpool, for a supporter as I am and as a manager now as well, because they're so close in the vicinity as well, we want to be the best. We have been the best, and it's not nice seeing those two at the top."
United need the three points come what may on Wednesday in their chase for fourth spot. But, whatever the result at Old Trafford, don't be too surprised if you see United fans siding with City in the remainder of the run-in.