Moussa Dembélé
Why Dembele has flourished at Celtic – Roberts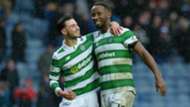 ---
EXCLUSIVE
---
Patrick Roberts believes that a combination of hard work in the gym and Brendan Rodgers' management has helped team-mate Moussa Dembele to flourish with Celtic.
England Under-20 international Roberts was a team-mate of Dembele when both were still at Fulham. Now they find themselves reunited in Glasgow, with Roberts in the midst of an 18-month loan at Celtic and Dembele having arrived last summer on a free transfer.
Kaka: He should change his name to Reymar!
The Londoner is impressed with how his team-mate has developed in recent months, though.
"He's got bigger – I'll tell you that!" he laughed, reflecting on how the attacker once was. 
"He used to be skinny as when he first came to Fulham, but he's built himself up. He could always finish, even when he was signed from PSG.
"He's now got the strength aspect to his game, and the team ethic, and I think the manager here's brought that on him as well. He's pressing and he didn't do that at Fulham because he was just a young boy, but the manager's brought him on leaps and bounds. He's a top player and got a big future."
Mentally, Celtic have been relentless in their pursuit of success this season, winning 26 of 27 Scottish Premiership matches and bettering a post-war unbeaten record set by the great Lisbon Lions side of 1967. Roberts puts much of this down to the Irishman in the dugout.
"I think he's helped my belief, and with most of the player actually, there's a new sense of belief," he said. 
"The manager has obviously worked with some top players. He's worked in the Premier League and he knows how to get the best out of the players and I think everyone here has benefited from that. 
"He's great with young players and he knows how to get the best out of them. He's been working with me really closely and trying to improve every possible aspect of my game that he can.
"You can see from our performances, we've been dominant. That's the way we came here at the start of the season to play."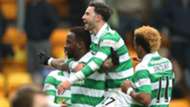 Patrick Roberts and his Celtic FC teammates wear New Balance kit. Available here.
Roberts has loved his experience in Glasgow and believes the prolonged loan spell has so far proven well worth it.
"Six months wouldn't have been ideal," he admitted. "The league was coming to an end, and obviously there was the Champions League the following year, and it was important to get ready for that - that was the reason behind the 18-month loan and I felt that was good for me. 
"Going into Europe was great and for anyone getting to play in the Champions League at such a young age is fantastic. Experiences like that are golden and to especially score – not many people do that. It was good, and Champions League as a boy is everything, especially playing six games against the teams we had, it was fantastic."
Indeed, Roberts scored one of the goals of the competition when he embarked on a dribble reminiscent of Lionel Messi to score against Manchester City – his parent club. Even at the Etihad, though, he did not allow his mind to wander to a potential future with the Premier League side.
Who could break Pogba's record?
"I was only there six months, so it wasn't that weird," he said. "Yeah, I'm contracted to City but I'm playing for Celtic and my main part was to win the game for Celtic, and even if I had to score or assist that's what I was going to do. So it was normal – just another game of football.
"I wasn't out show anyone. I do that naturally in my game. I want to play well and improve myself as a player. I want to get to the top and in any game I have to improve and I'll do that. If I impress, that's great, but my main worry is to do myself proud and do myself justice."
Despite the quality of his goal, it seems that Pep Guardiola was not ready to get carried away with his contribution. "He said well done, which was nice," the Englishman smiled.
Indeed, he believes the performances of Celtic in the Champions League have helped to improve the perception of the Scottish game.
"The opinion down south is that the teams aren't as good as in England but it's still a tough test for anyone," he said.
"When we get on the pitch, everyone wants to beat us and stop our run. We're a top squad and teams are starting to realise that – when City came here, I don't think they could quite believe what we were really like, especially with the fans."