United States
Who is Nick Lima? The American fullback with a chance to shine at the Gold Cup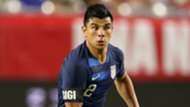 Nick Lima has endured some serious highs and lows in 2019, but he could be primed for what could be the biggest high of his career to date.
The San Jose Earthquakes defender heads into the Concacaf Gold Cup expected to be the U.S. national team's starting right back, stepping into the void left by injuries to stars DeAndre Yedlin and Tyler Adams. He will have the task of trying to handle the hybrid role Gregg Berhalter has created, one which combines the right back and defensive midfield roles into a demanding, but potentially influential role that could make Lima a key figure at the Gold Cup.
Lima having any role at all at the Gold Cup didn't look like a sure thing as recently as three months ago, when he was in the midst of the low point of his 2019.
His year began with the high of impressing in his first look with the U.S. national team, starring in the team's early friendlies, sparking talk that he could be a strong option at right back for the full team.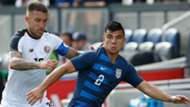 The good vibes from that strong start quickly disappeared when he rejoined the San Jose Earthquakes, and saw his playing time diminish along with his hold on his natural right back role. That played a part in Lima failing to see any playing time in the U.S. national team's March friendlies,  which came right before he was benched by Earthquakes head coach Matias Almeyda.
"It was easy at first to look at it as you're being the victim in a situation that you shouldn't be in," Lima told Goal. "But that's also the last way you should see it because then it stacks up on top and instead of two games not starting, or three games not starting, maybe it's eight games or 10 games and you miss a whole season or half a season.
"Anyone in that situation is going to be taken aback by it," said Lima, who was benched for three matches before regaining a starting role, though at left back, for San Jose. "You're going to be emotional, it just depends on how much. After I was, then it was 'This sucks, I don't want to be in this position, not starting', and you have to just be able to step away from the emotions and make decisions that will put you in a place where you're starting again.
"I just had to buckle down, it was a challenge, no different than when I went to January camp."
Lima's 2019 began with a call-up the USMNT's January camp as the third right back on the depth chart, behind Reggie Cannon and Keegan Rosenberry. He was even tried out as a central defender in a three-man setup, but when given the opportunity to play in Berhalter's hybrid right back role, Lima stood out. He surpassed Cannon and Rosenberry on the depth chart, and wound up starting both friendlies following the camp, earning man-of-the--match honors in a 3-0 win against Panama, then impressing in front of his home San Jose fans at Avaya Stadium in a win against Costa Rica.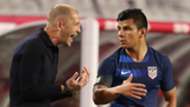 Those games showed what Lima could do in Berhalter's system, qualities that stood out once again in the USMNT's recent loss to Venezuela, where Lima earned another man-of-the-match nod. His ability to handle the right back-specific portion of the role didn't come as a surprise given how well Lima has performed at right back in his years with the Earthquakes, but his ability to transition into the defensive midfield side of the role is what has been even more impressive, and what makes him the best available candidate to fill a spot that was originally earmarked for Tyler Adams before he was forced to miss the Gold Cup.
"It's a big role because you're moving inside, you're able to break lines and make dangerous passes, but you're also able to attack the width, be dynamic on the outside going in, on the inside going out," Lima said. "Obviously you're a defender shutting things down, but also creating transition moments. You can have an impact in all aspects of a game, so whomever is in that role in the system is an important player."
Lima also knows the Gold Cup could help boost his stock on the international market, with foreign scouts sure to take in the tournament in search of talent. Lima has made no secret of his desire to eventually make a move to Europe, and a strong showing in the Gold Cup could help facilitate a move.
"It's a big platform, a big stage, and my first opportunity and I'm extremely excited about being able to help the team any way I can," Lima said. "As a kid, you always dream of representing your nation in tournaments, along with also playing for the biggest clubs in the world and playing in Europe. Those are the goals, and this Gold Cup is my first chance to realize that experience."
On a team with plenty of big names, such as Christian Pulisic, Weston McKennie and Michael Bradley, Lima isn't generating much hype heading into the Gold Cup, but given the role he'll play, and the fact he's stepping in for standouts like Yedlin and Adams, Lima could wind up as one of the USMNT's breakout players.
"You're talking about two of the top players in the nation, so it's big shoes to fill, but at the same time it's next time up for whoever it is," Lima told Goal. "It's an exciting opportunity, and if it's me I'll absolutely be ready to grind."